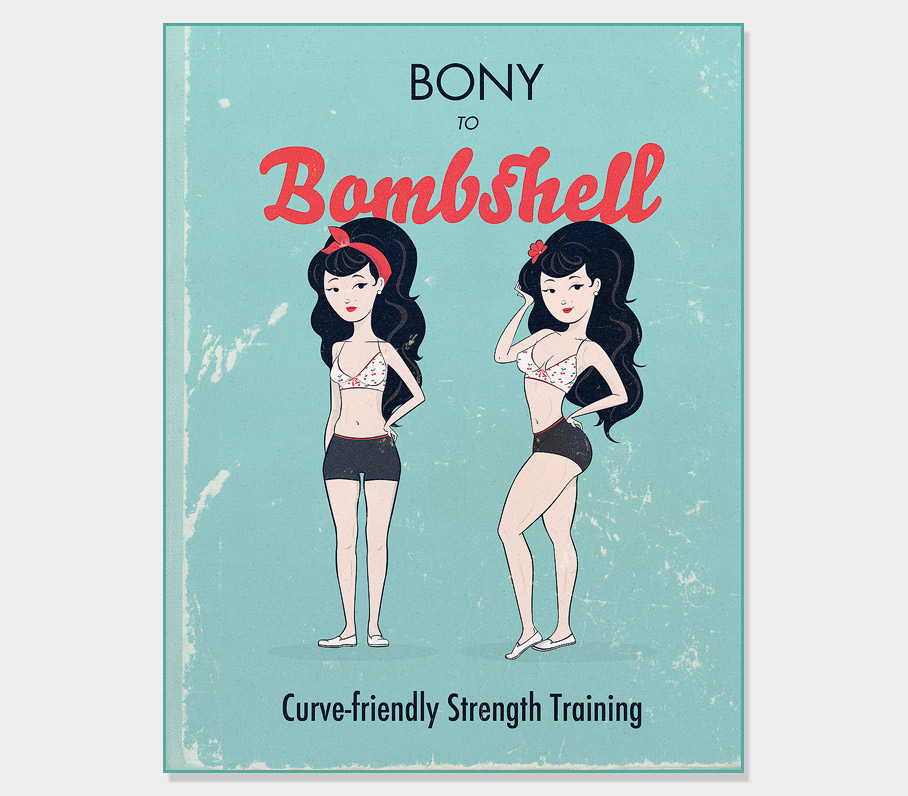 Bony to Bombshell, our muscle-building and weight gain program for naturally skinny women, is finally finally done! It took a lot longer than we expected, but we wanted to make sure that we developed a system that didn't just work in theory, but also in the real world with real women who really struggle with this stuff. I mean, we specialize in helping women who are fairly certain that being strong, curvaceous and bootyful is physically impossible for them. This is a program for naturally skinny women who have tried to gain weight in the past and failed – often many times.
So even though it took forever to make and even longer to test, we're thrilled with how it came out and even more thrilled with how well our beta testers did. Here's what it did on a few women with different body types and goals. (Check out the differences to their faces and posture, too!)
Big emphasis on weight gain / building muscle (aka getting curvier). Naturally thin Sara showing what straight out skinny-gal muscle-building looks like. She's up five pounds here and also significantly leaner (as measured by bodpod), meaning she's gained far more than five pounds of muscle. This is our specialty – helping naturally skinny people build muscle and strength in all the right places 🙂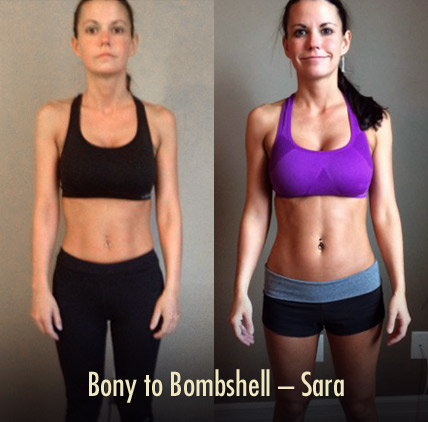 Emphasis on building muscle, some emphasis on losing fat (aka building up badass hips). Here's Cindy showing some muscle gain. She's just a tiny bit heavier than when she started, but with more bodacious curves. "Coke bottle curves", she calls them 😉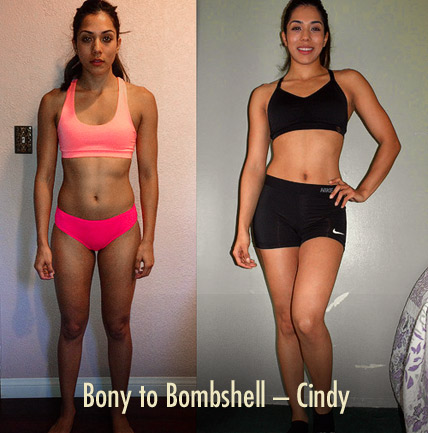 Emphasis on building muscle, some emphasis on losing fat (aka toning). Here's Reetta, who came in already pretty strong. She was looking to keep her weight around the same, and she's come out stronger and leaner than when she started (which you can see pretty clearly in her tush, which is both quite noticeably bigger and leaner).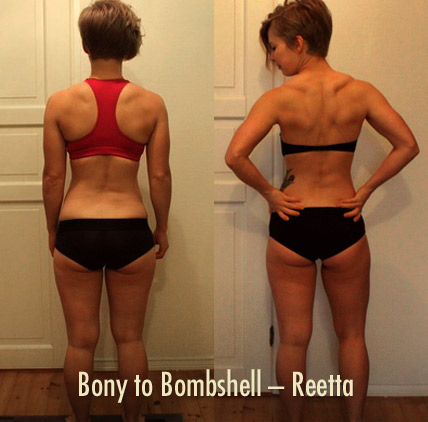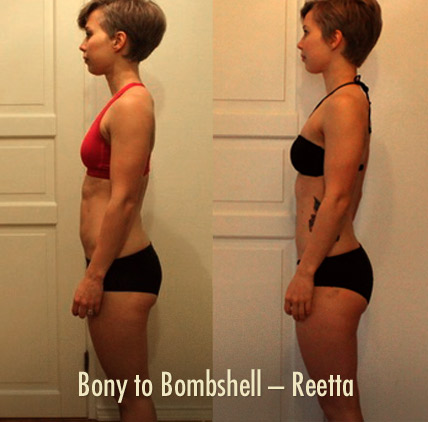 Emphasis on losing fat, some emphasis on building muscle (aka toning). Here's Randi showing some muscle gain and fat loss. She's down three pounds, but far stronger than when she started in just five weeks.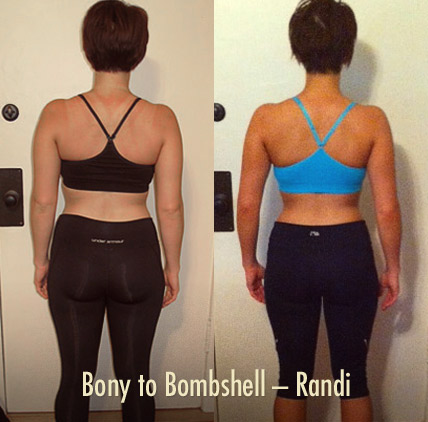 Emphasis on maintaining previous fat loss, and then also building muscle (aka reverse dieting). Erica, down 5 pounds, shoulders up nearly 3 inches and waist down 2 inches.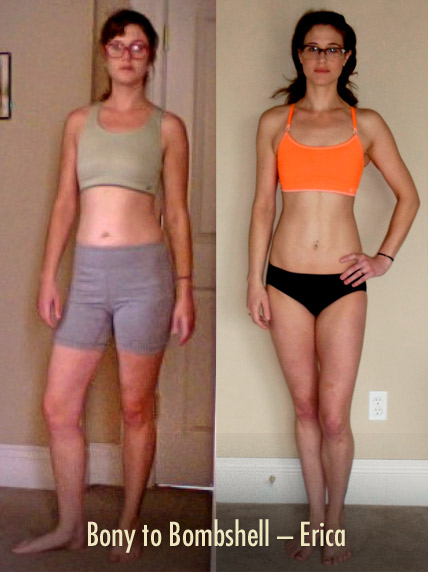 Emphasis on losing fat (and only fat). Here's Julia showing pure fat loss. Still strong, but down a good ten pounds in just ten weeks.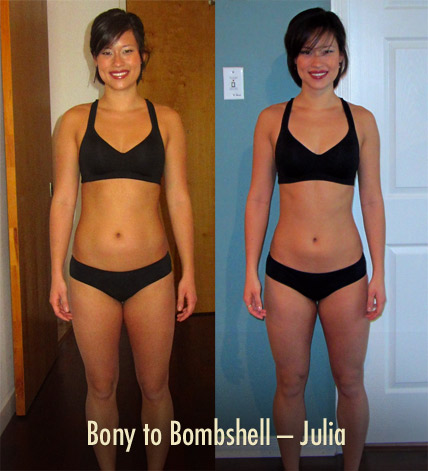 Now that the program is live the community is already bustling with new faces, new sets of before photos and new sets of measurements. We're confident that we'll soon have tons of amazing transformations to share. I really hope you decide to be one of them!
What you'd need to do:
1. Hit the gym three times per week. Each workout will take about an hour. No experience required – we'll teach you how to do everything. We explain the fundamentals of weightlifting in the eBook, we've got workout sheets spelling out exactly what you need to do, we've got thorough instructional videos for every single lift … and we can help you individually in the community. (You can use a home gym instead, but this program will make you strong, so you'd need access to heavy weights. I would consider heavy adjustable dumbbells and an adjustable bench to be the minimum required equipment.)
2. Make the changes to your diet that will produce results. We won't force you into rigid or restrictive meal plans, but chances are some things will need to change. We'll teach you exactly how to do that, and you'll finally get a really solid understanding of exactly how this muscle-building / weight gain nutrition stuff works. (We're totally game to work with you personally on this too, so no matter your budget, schedule, allergies, appetite, moral convictions, etc – we can make this work!)
3. Track your progress and adjust accordingly. The eBook will explain how to do this yourself if you're really determined to do this privately … but ideally you'd take advantage of the coaching and community. We highly recommend taking progress photos, measurements and weigh-ins. (We'll teach you the finer details of how to do that, too.) If you let us know how you're progressing (or not progressing) we can adjust things for you personally and guarantee that you'll get results. (And we have a full guarantee too. If it doesn't work I'll personally give you a refund. You get every penny back.) 
How to join:
If you want to learn more, click here to view the program page. If you're so excited that you want to skip the page with all the details on it and purchase the program right away, you can click here.
We really hope you decide to join us!