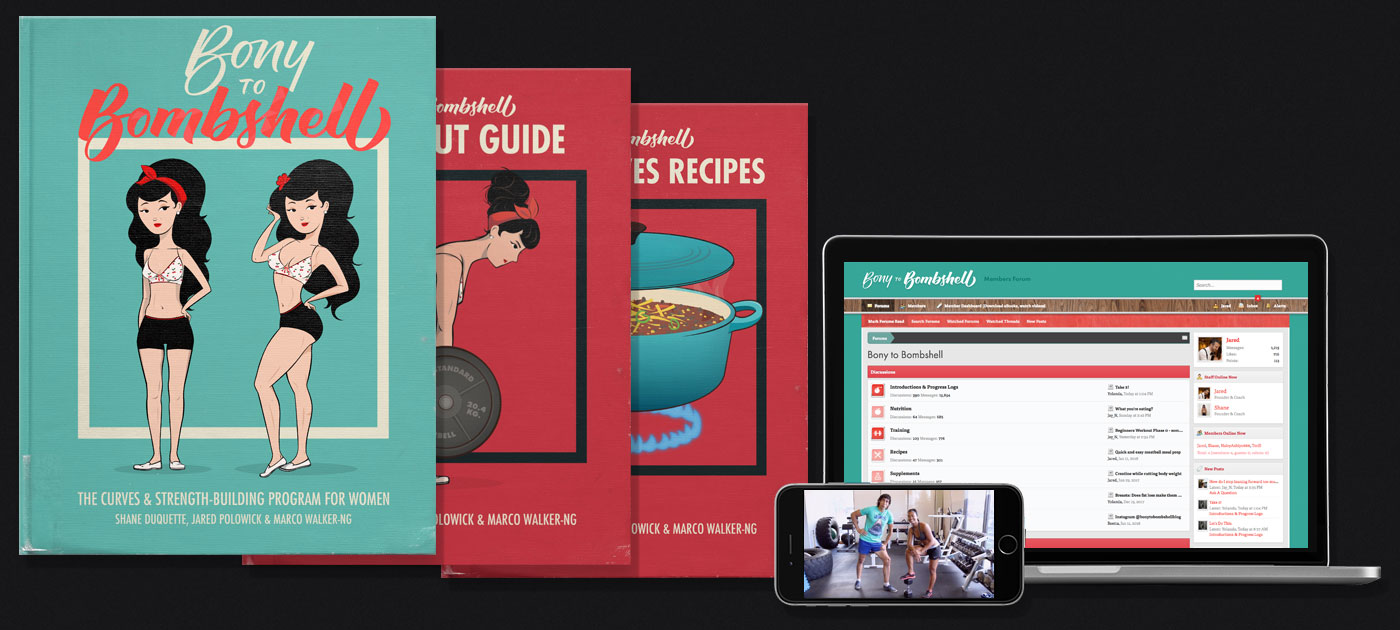 BONY TO BOMBSHELL
The muscle-building program for women who want to gain weight
Screw getting smaller. Let's get bigger, stronger, and curvier.
"I gained 8 pounds in 3 months... I saw results after one week!
I am thankful that I took a leap of faith and gave b2Bomb a try!"

Melissa B., Yoga Teacher, 27 years old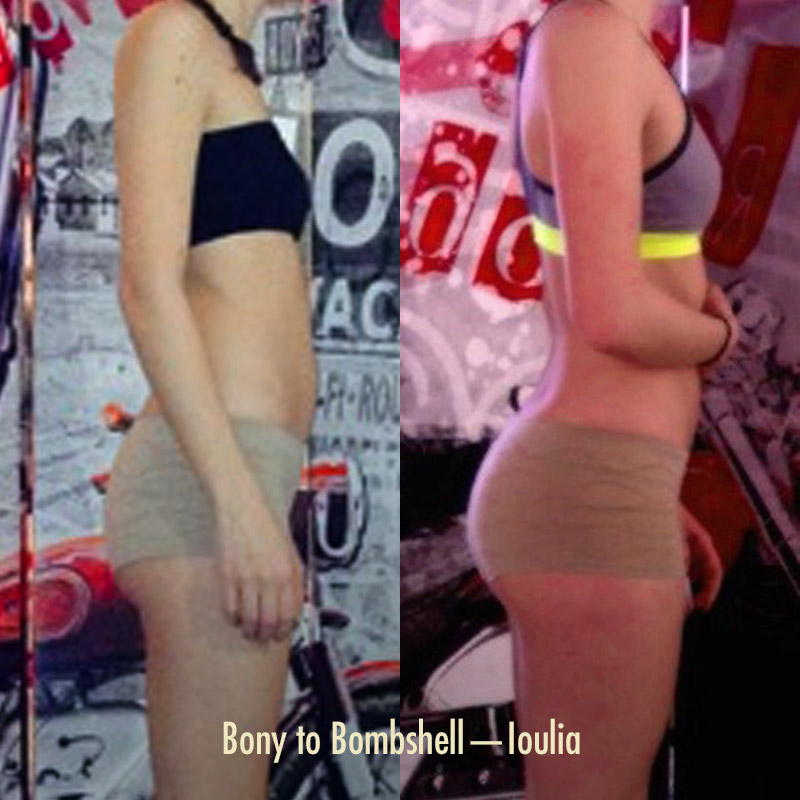 Gain 10+ pounds of muscle
Fill out your hips, firm up your muscles, cinch in your waist with stronger core muscles, and build a round butt that pops.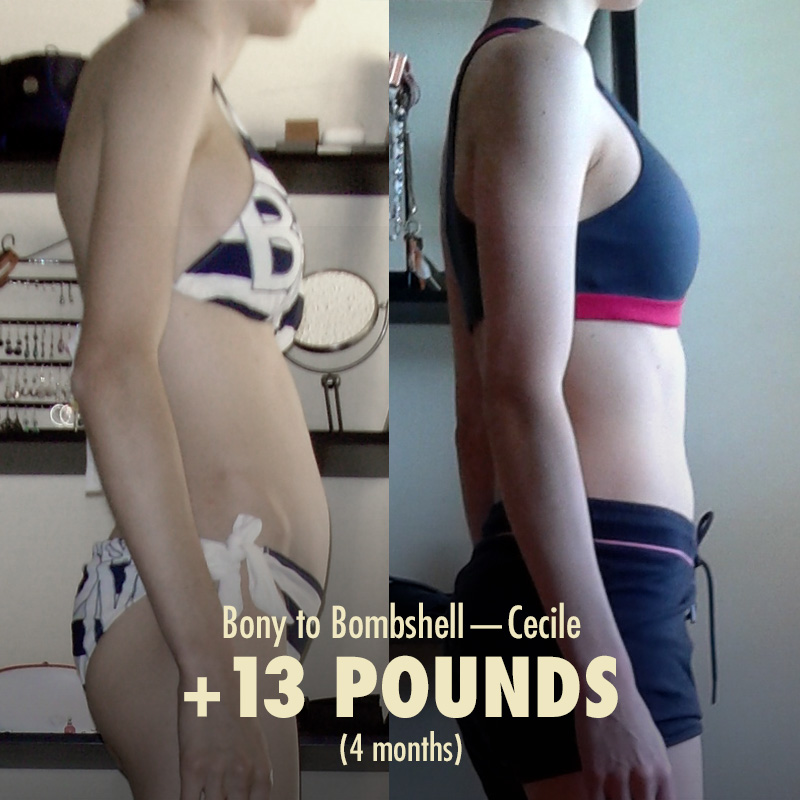 Stand tall, grow strong
Not only will you become more powerful, your improved posture will physically hold you in a stronger and more confident position.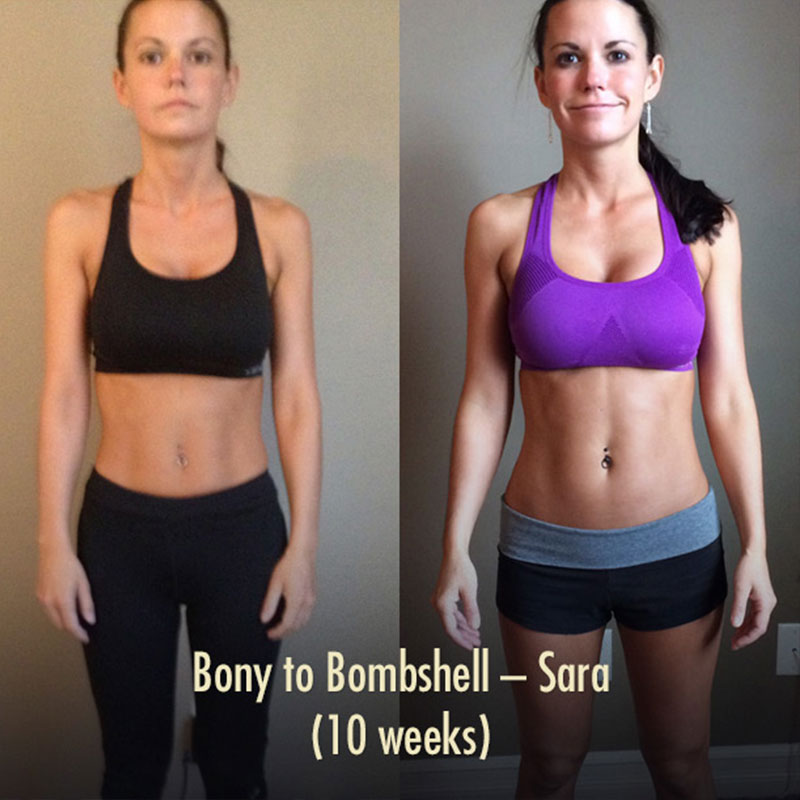 Become more, live bigger
The world needs more of you, not less. Build a stronger, healthier, and bigger physique. Become your best self and live bigger.
Buy securely with

or with a credit card through Why is it so damn hard to gain weight!?
Do you feel like you're doomed to stay skinny forever? Or that no matter what program you do, no matter how hard you try, your genetics will prevent you from building the physique you want?
That's how we felt, anyway. We tried and failed. Over and over again. And we were going through life with all of these failures looming over us, everyone telling us to "just eat more" or saying "I wish I had that 'problem.'"
Our "problem." In quotation marks. Like it wasn't even real. Like we were complaining about being haunted by a ghost.
Meanwhile, we felt like ghosts. Like small fragments of who we wanted to be. Not even strong enough to be taken seriously by our friends. Stuck in the body of a little kid.
The good news is that your genetics are perfectly fine. You've just got a rare body type. It's actually the best body type, it's just that most of the fitness industry is oriented around overweight women who want to be thin, and of course that advice is exactly the opposite of what you need.
Naturally skinny women have different problems. Of the 1,200 women we've worked with over the past few years, most of their problems boil down to:
They don't know what or how much to eat.
They find it hard to get started, hard to stay motivated, or hard to find the energy to stick with it long enough to see results.
They struggle with anxiety, or find lifting weights intimidating.
The workouts they're doing aren't good enough at stimulating muscle growth.
Even if you struggle with all of those issues, you can still build a curvy and powerful physique.
All you have to do is master the 3 key Bombshell formulas:
A diet designed for weight GAIN—so that you can gain weight even with the skinniest of stomachs, even with the most meagre of appetites, and even with the wildest of metabolisms.
A workout routine that goes mercilessly after muscle—so that you build muscle even with a lanky physique, even with the smallest of muscles, and even if you think your muscle-building genetics suck.
A lifestyle that suits your goals—so that you can do this even if you're juggling three children while working full time and getting a degree.
That's because your skinny stomach isn't a bad thing, it just requires a different kind of diet advice.
And you don't actually have bad muscle-building genetics, you just shouldn't be doing workouts designed for an overweight woman who wants to tone.
And building muscle isn't about sacrifice, it's about becoming the best possible version of yourself. It's about thriving in your body. It's about living a bigger life in a stronger and more capable body (that also looks way sexier).
Perhaps best of all, your results won't be mysterious. There's no hope involved. No guesswork. Your results will be measurable. Just step on the scale once per week to see your weight gain. And measure your hips once per month. Boom—measurable booty gain.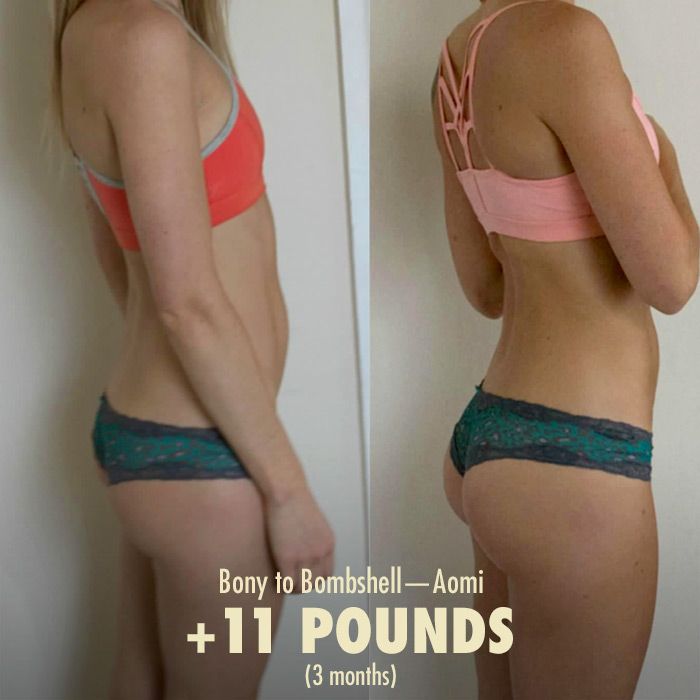 Steady results every week. That's how you know that 5 weeks from now you can be up to 5 pounds heavier, and 5 months from now you'll be up to 20 pounds heavier.
There's no surprise. No mystery. Just results steadily accumulating week by week. And quickly.
How can we be so sure? Building muscle can seem totally mysterious if you just read tips and tricks. That's true with anything. Try learning calculus by googling for tips or reading random articles in Math Digest. It won't work. You'll never understand it. But if you take a good calculus course, learning it from the ground up, then it becomes simple. (By the way, this program is 1,000x more fun than learning calculus. We're happy to nerd out about this so that you don't have to.)
Anyway, building muscle is the same. Once you learn the basics of how lifting, diet and lifestyle fit together, you'll realize this is all grounded in simple science. It's as simple as 1+1+1=bodacious.
That's how we can absolutely guarantee your results.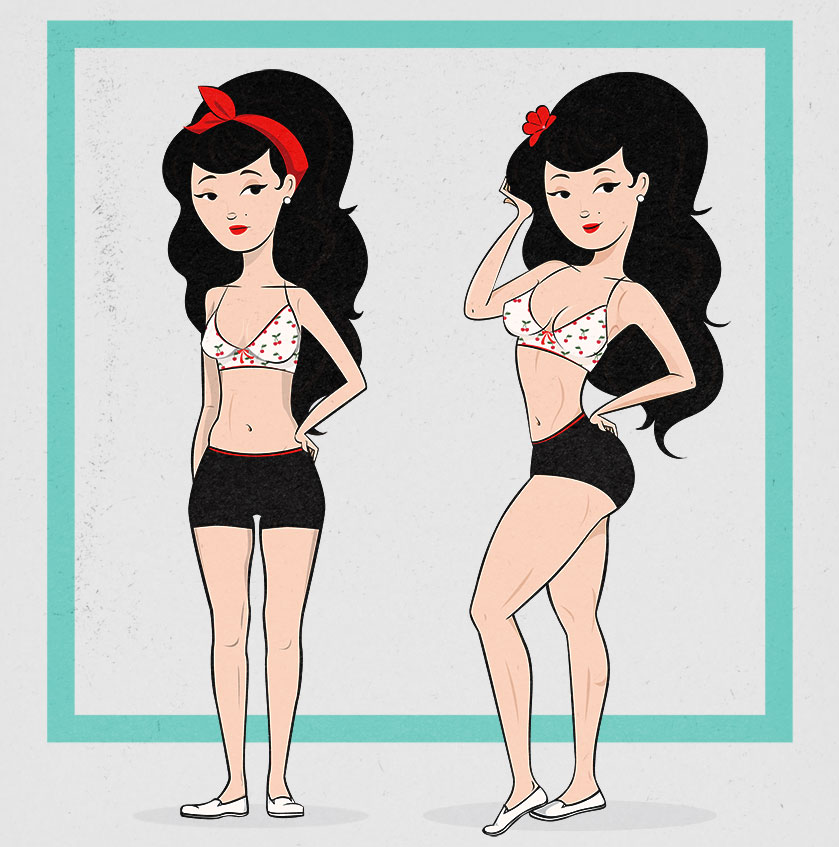 That's not to say it will be easy. You'll need to do your 3 workouts per week. You'll need to adjust your diet. You'll need to make sure that you're sleeping well. But if you do the work, you'll get results like clockwork. That's what we can promise you.
So. What would it be worth to you if in a couple weeks, your friends and family came up to you, a bewildered look on their faces, saying, "I can't quite figure out what it is… but you look better."
Or in a couple months, when your clothes are fitting exactly how they should be, and everyone is telling you that you look amazing. "What are you doing?!"
What if a year from now, you're known among your friends as the woman with the great physique? What if they start asking you for fitness and diet advice, hoping to get results like you did.
Well… at that point, if you're feeling especially snarky, you can tell them, "just eat less!" But we recommend being nicer. After all, their body type isn't as rad as yours. It will be a harder journey for them.
Buy securely with

or with a credit card through

So, if you're feeling:

Frustrated because most fitness programs assume that you want to lose weight.
Skeptical because gaining weight seems borderline impossible
Excited because you know that the future is bigger
In The Bony to Bombshell Program, we'll teach you absolutely everything you need to know in order to 
build a powerful, curvaceous physique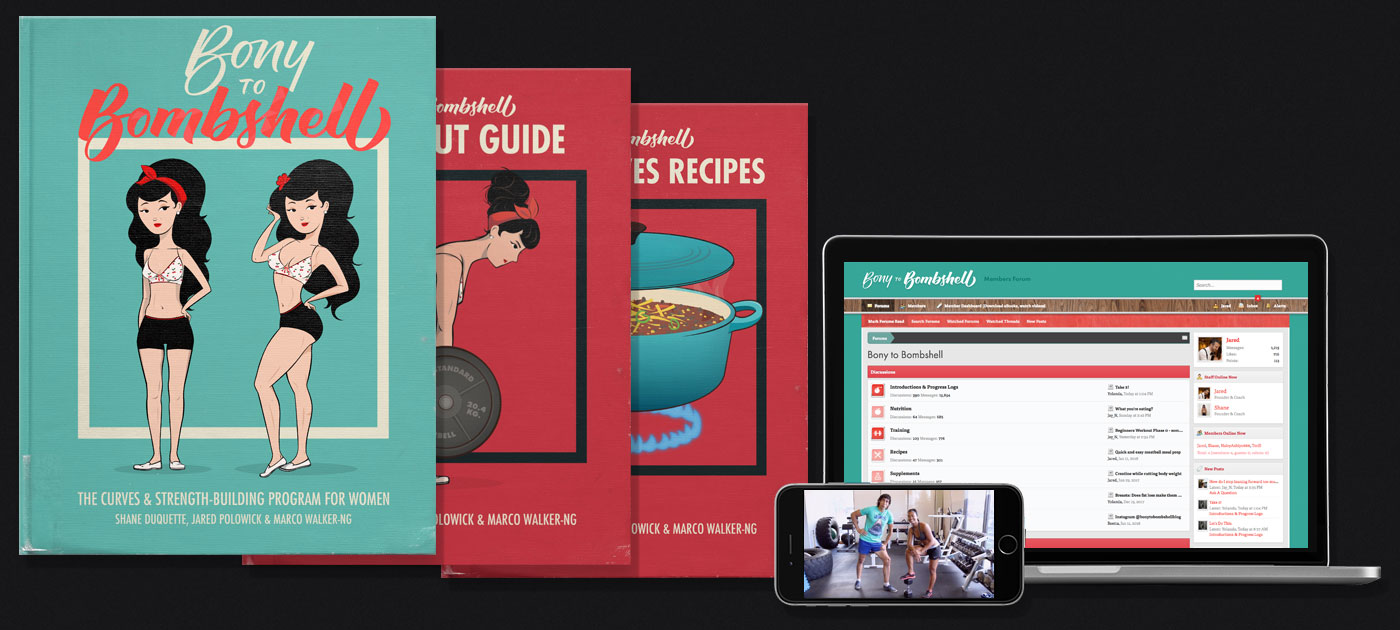 THE BONY TO BOMBSHELL PROGRAM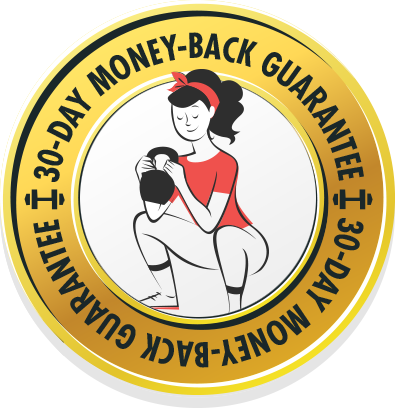 We stand behind your results with a 100% guarantee
We've made some big promises, but we stand behind them with a full money-back guarantee. If you change your mind after 30 seconds, or even after 30 days, we'll give you a full refund.
If you don't see the value in the program, just send us a quick email and we'll refund any penny without any hassle. Even if you love the program—and we're sure you will—you can still get a refund.
Try it, start getting results, and then you decide whether you want to keep it.
Join over 1,500 women just like you who are using Bony to Bombshell
to gain weight leanly and quickly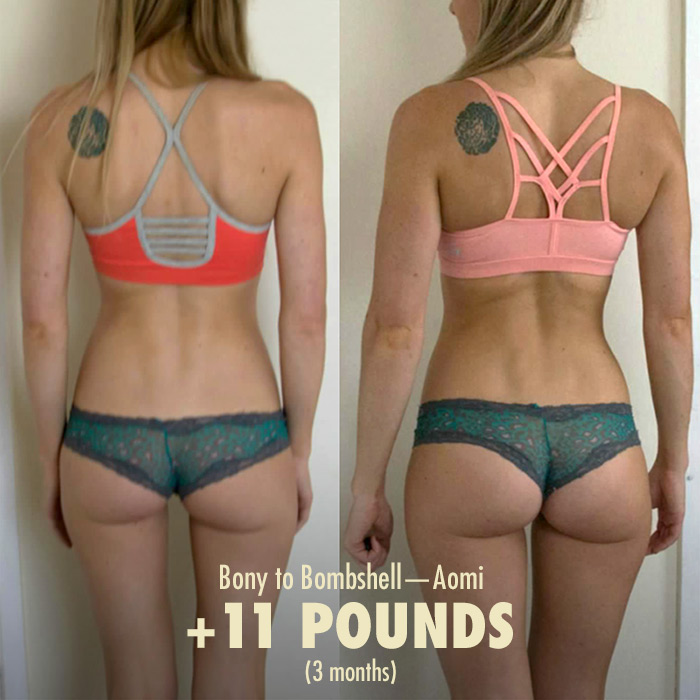 Aomi gained 11 pounds in 3 months, adding 3 inches to her hips. By the end of the program she was glute-bridging 300 pounds.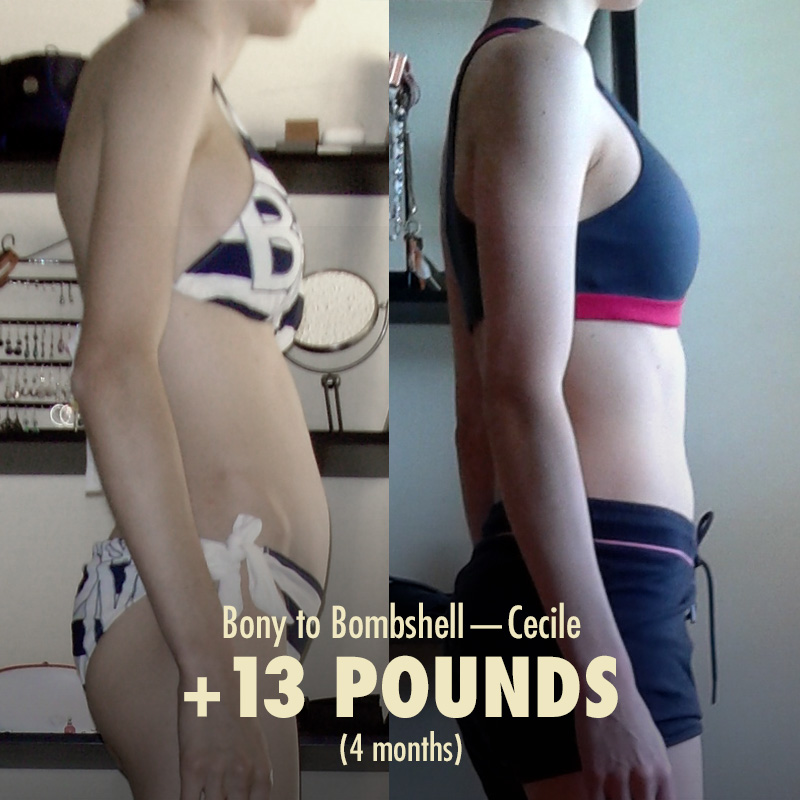 Cecile gained 13 pounds, adding 2.5" to her hips, 3" to her shoulders, and 3" to her thighs, finishing with a 315lbs glute-bridge.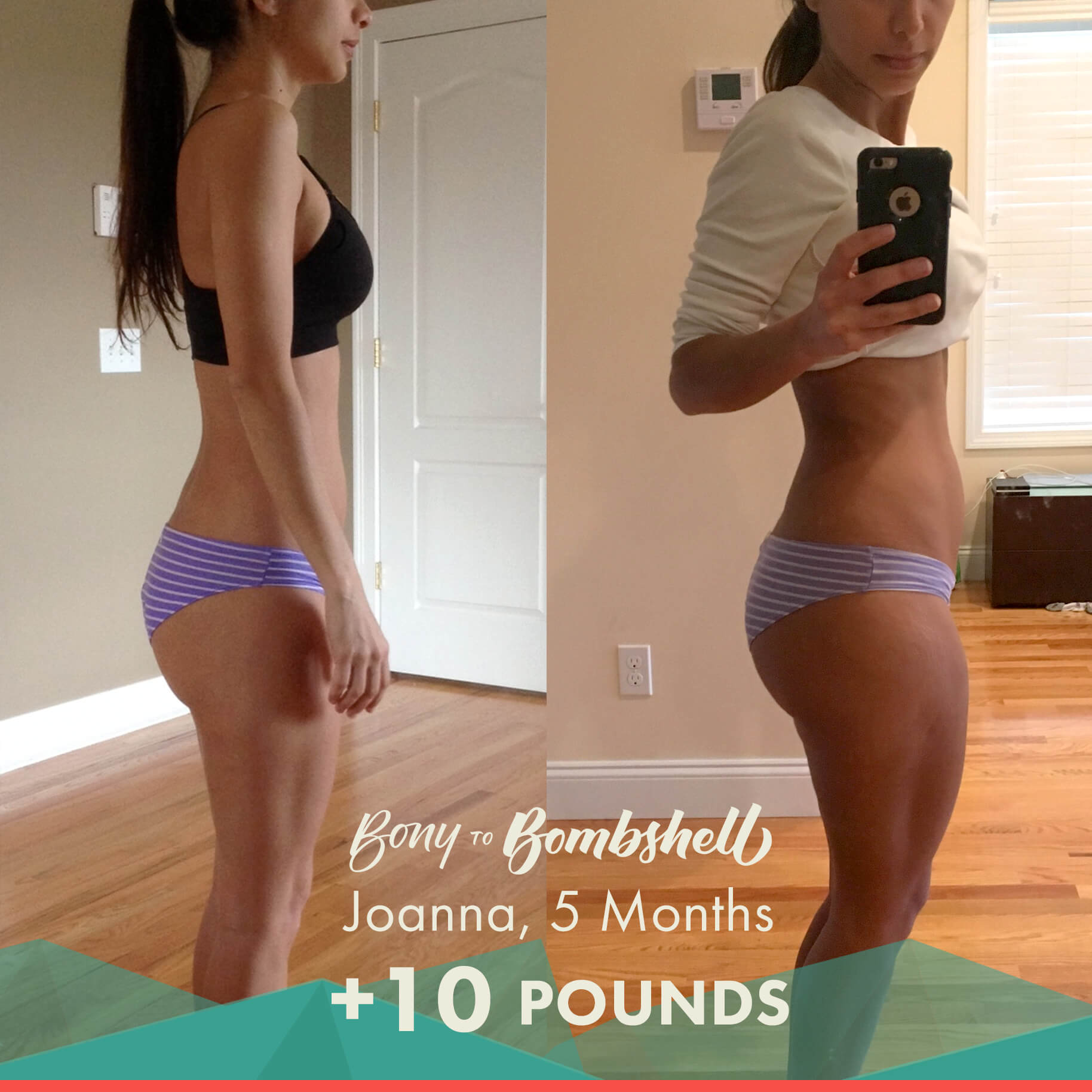 Joanna gained 10 pounds, adding 1.5 inches to her hips while simultaneously shrinking her waist down by 1 inch.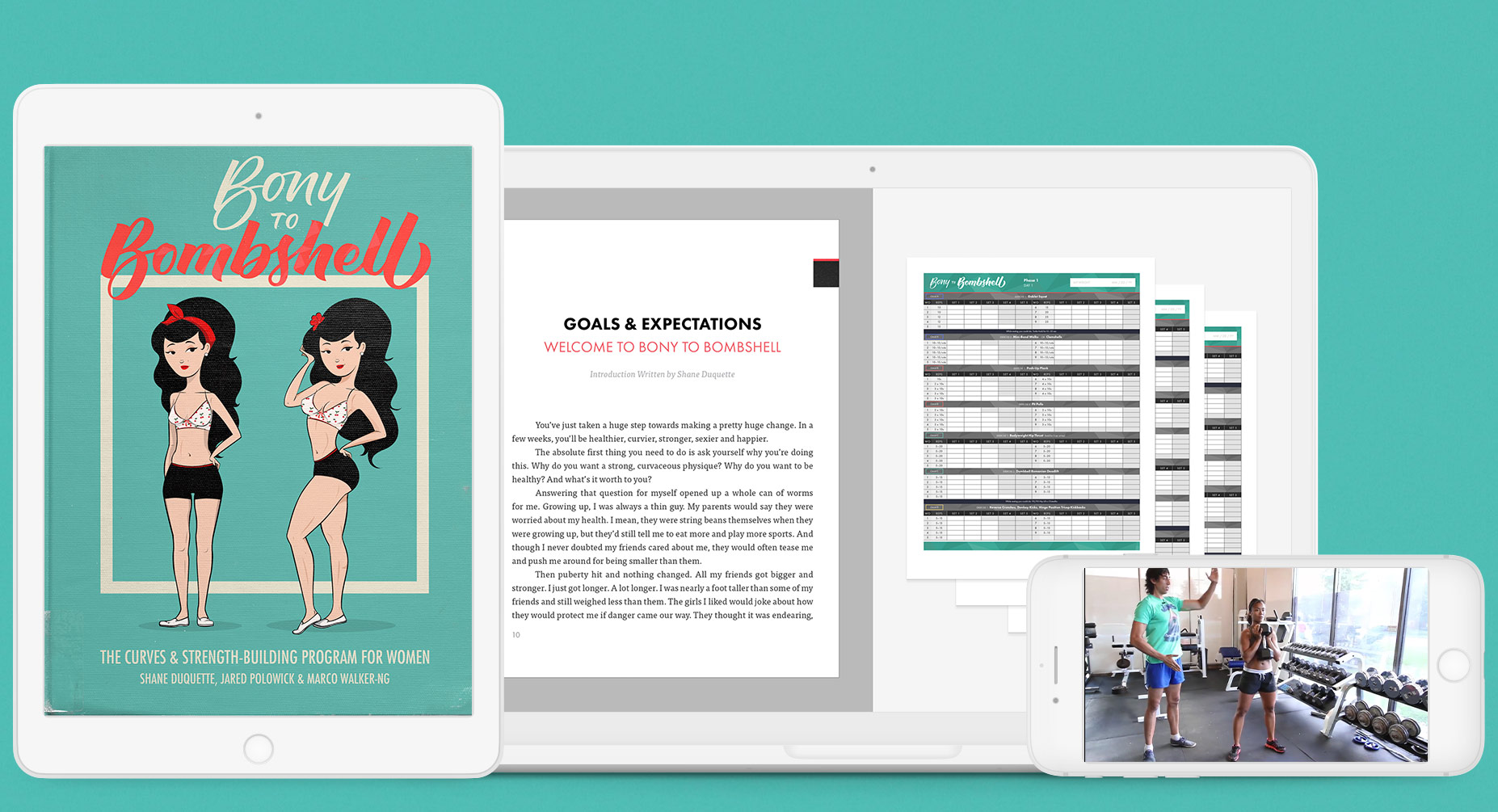 The 3 Formulas
In The Quick-Start Guide, we'll teach you the fundamentals of gaining weight, building a strong physique, and developing powerful curves. It's not as complicated as it seems. You just need to focus on three things: calories, protein and lifting progressively heavier.
We'll walk you through all of it. All simply explained. Just follow the program, put in the work, watch your measurements grow.
Then, over the course of the rest of the program, we'll dive deeper. Appetite hacks, advanced lifts, advanced strategies, how to fix your posture, how to bring up lagging areas, nutrient timing, supplements—all of it. But at your own pace.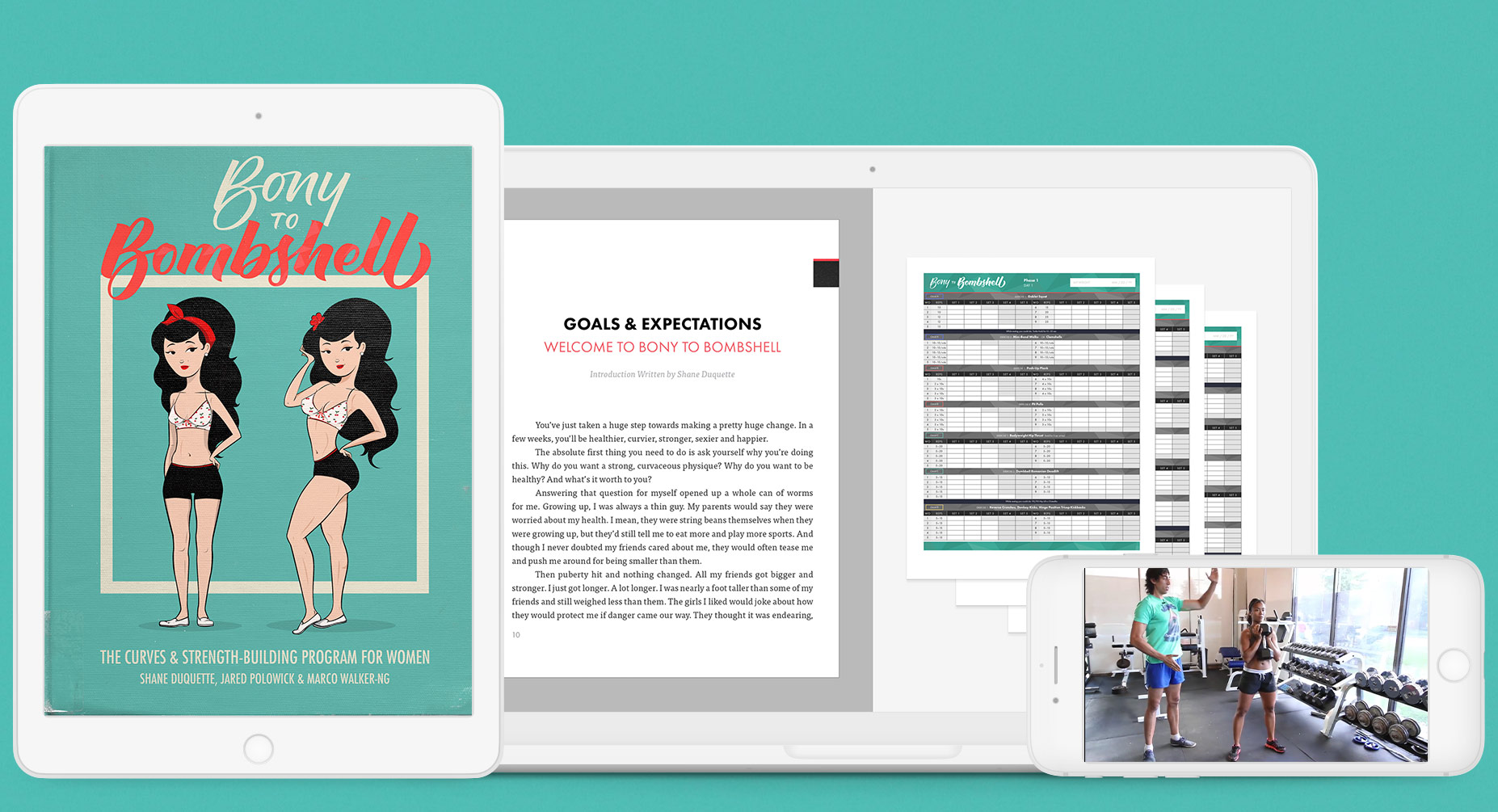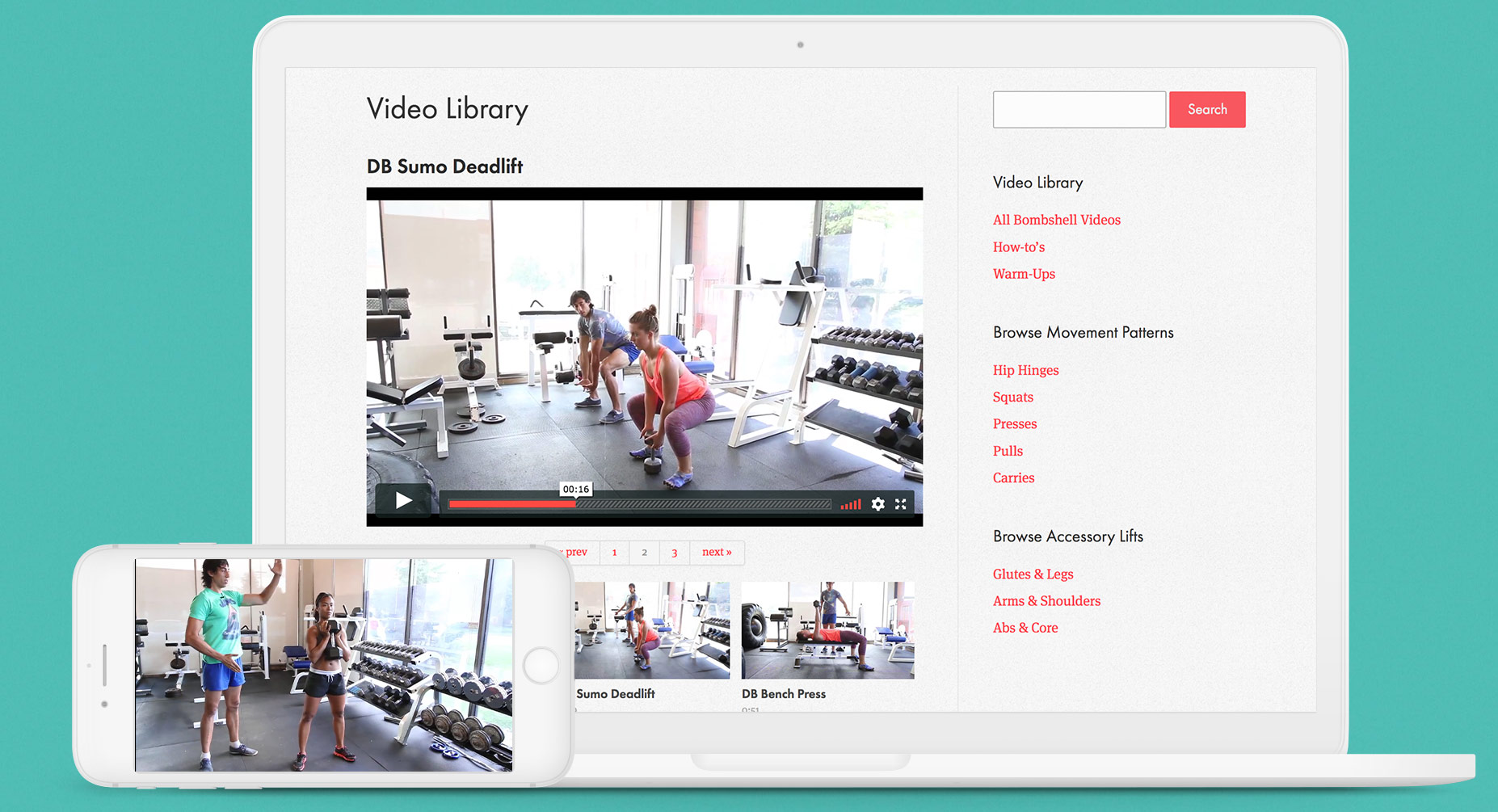 Learn by Seeing
As you go through the program, Marco will gradually teach you every lift that you need to day. Over time, he'll teach you more and more advanced versions of the lifts, helping you become a graceful, strong and athletic lifter.
Watch the videos on your phone, tablet, computer—wherever you have internet access.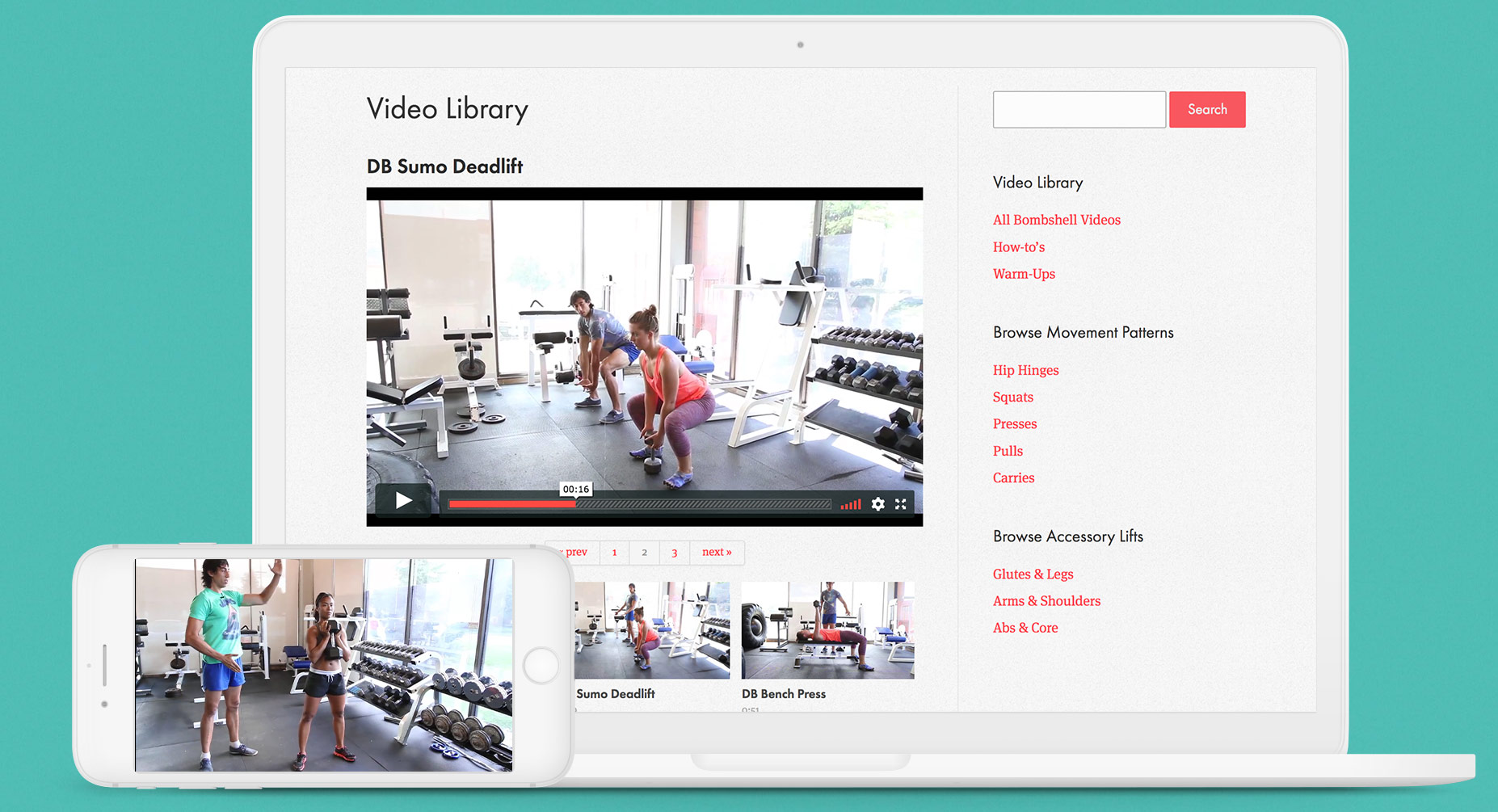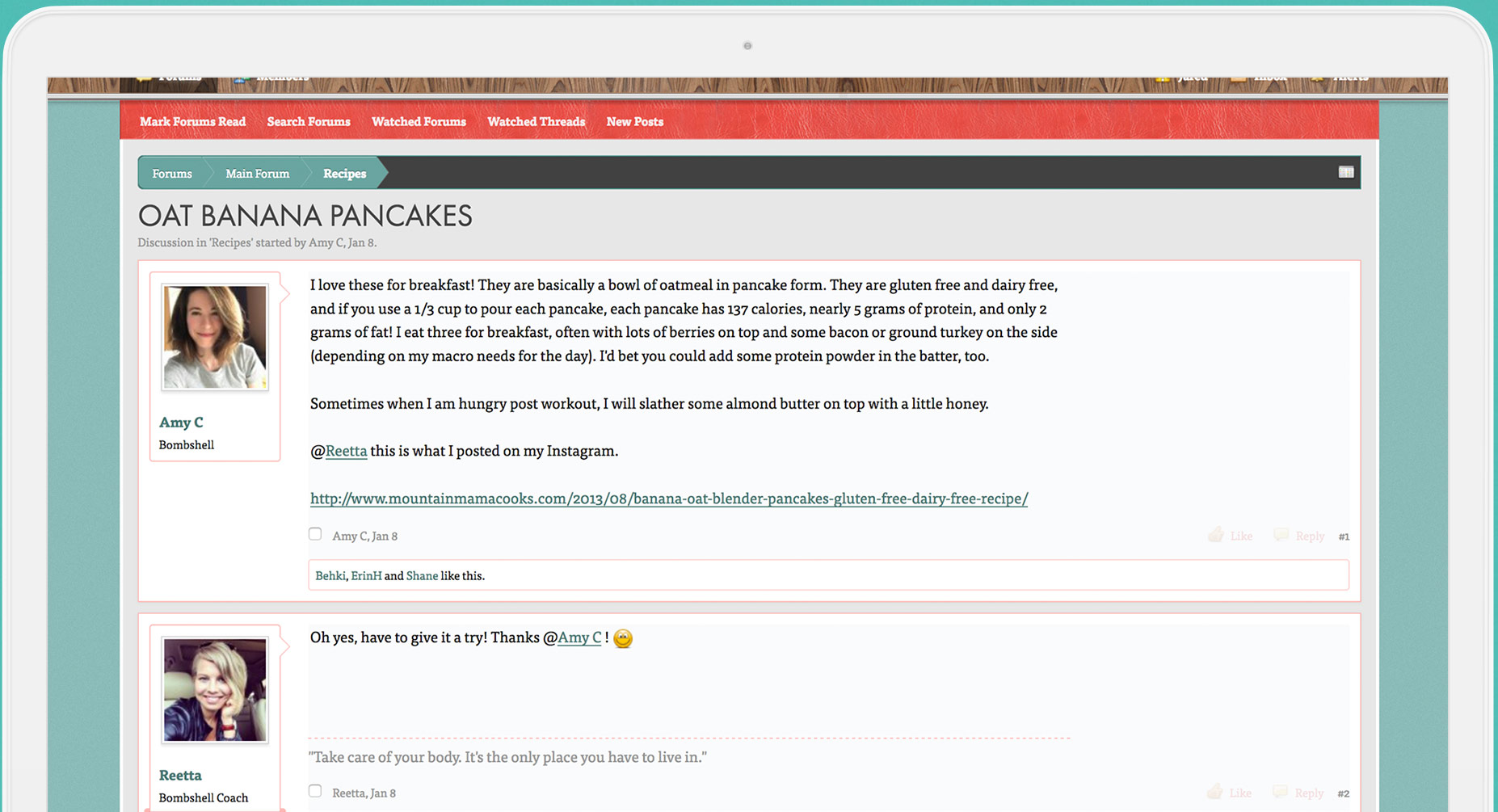 Join The Community
One of the problems we ran into when trying to gain weight was that nobody understood us. We felt alone, so we decided to group up.
In the Bombshell community, you'll meet all kinds of women from all over the world, all united by one common goal: to gain weight and build the physique of their dreams.
Be inspired by women one step ahead of you, help those who are one step behind, and be part of the Bombshell movement.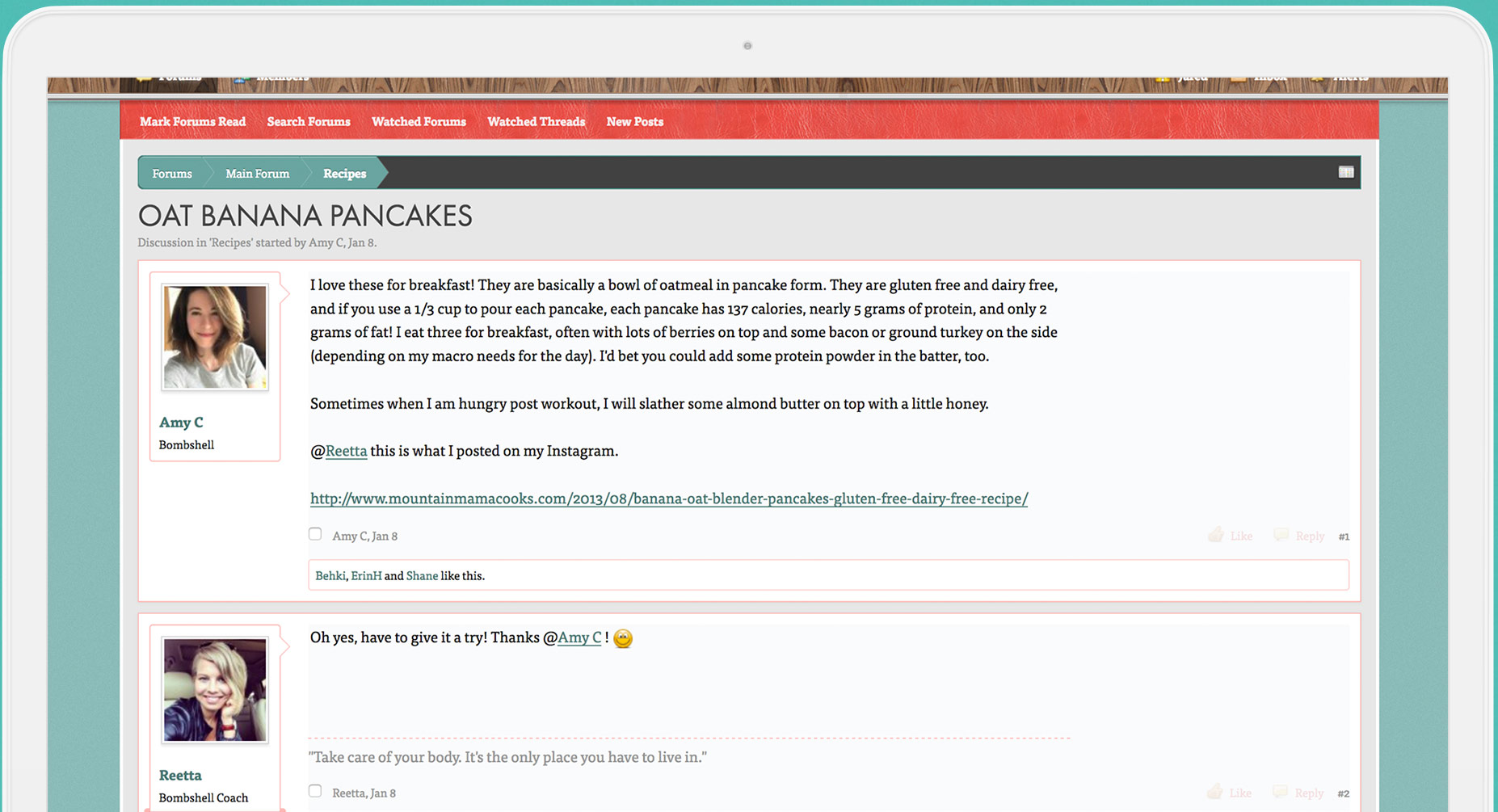 Meet The Experts Behind Bony to Bombshell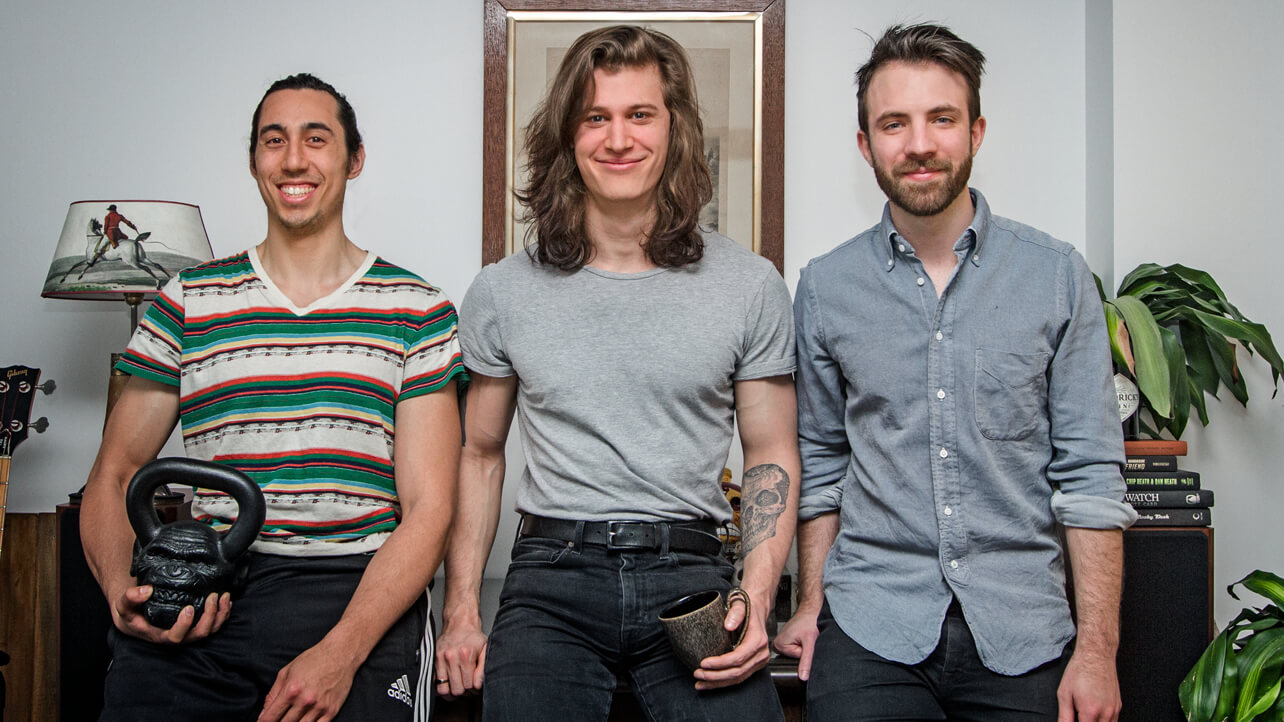 We're naturally skinny, too. We had doctors tell us we were dangerously underweight, we had parents worried we were too skinny, and we had strangers telling us we should "eat a burger." So we decided to make a change.
Marco (left) has gained 65 pounds, Shane (middle) has gained 55 pounds, and Jared (right) has gained 45 pounds.
Then we made The Bony to Beastly Program and helped 5,000 guys overcome their skinny genetics. Thing was, a lot of our readers were women, and they were asking us to make a women's weight gain program since there are even fewer resources out there for women.
So we built Bony to Bombshell, and so far we've helped over 1,200 women accomplish their weight gain goals.

What about credentials? Marco programs all of the workouts and teaches all of the exercises. He's a professional Strength & Conditioning Coach with a bachelor's degree in Health Sciences from the University of Ottawa. Before teaming up with Shane and Jared to make Bony to Beastly and Bony to Bombshell, he made a living helping professional and Olympic athletes build muscle to improve their sports performance, including members of the Canadian Women's Sevens (Olympic rugby players). 
We've now helped over 7,000 naturally skinny people finally overcome their genetics and gain the weight they want.

Here's what some recent members had to say about the program:
Feeling stronger than I've ever felt
The B2B program has been an education for me. Now, every time I see a TV commercial, magazine ad, or infomercial for some diet, gadget, or pill that'll promote weight loss and tone one's body from head to toe, I just cringe thinking about how many people are getting scammed.
So here I am, seeing results, feeling stronger than I've ever felt, and it's fun and so doable!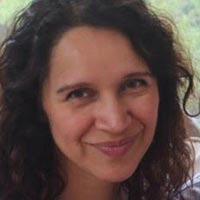 Julia Z.
46 years old
Making it easier to stick to
This plan really helped get me going on a new lifestyle that I have stuck to for longer than I've stuck to anything fitness related (1+ year!).
It truly has helped set me up for a new lifestyle which has become pretty automatic at this point.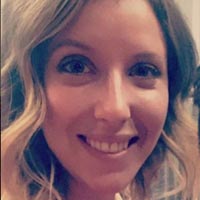 Katie L.
29 years old
An Example For My Daughters
In 5 months I gained 10 lbs in all the right places I've never felt better or more energetic and the best part is that I'm setting the example I want my daughters to follow, eat for energy and performance, train for fun.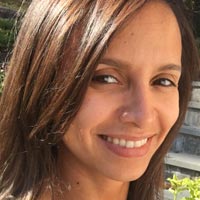 Joanna F.
Stay-at-home Mom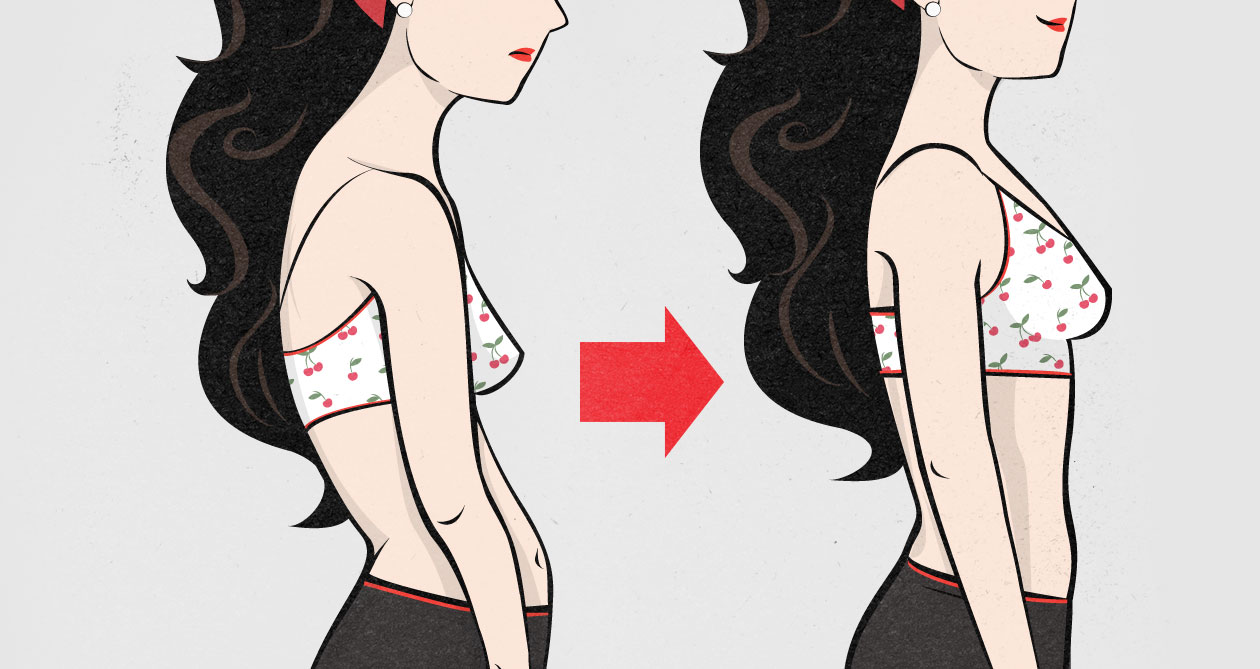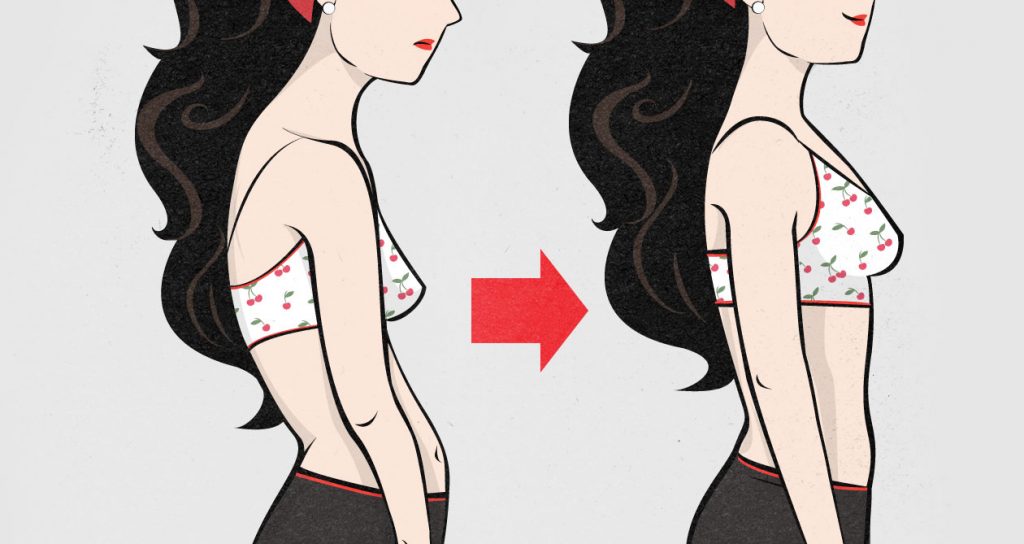 Your body is a no-brainer investment.
If this were just some sort of makeup transformation, I'd feel hesitant to push it this hard, but this is your health and physique we're talking about. This is what's going to keep you looking and feeling young as you age. This is how you feel powerful in your body. This is how you build a strong heart, strong bones, strong tendons, and strong curves.
And speaking of which, having bigger legs is associated with better brain health. And having strong hips is the number one way to prevent lower back pain. These are amazing, deep improvements. This is how you transform from the inside out.
We know the cost of ignoring our bodies
At 23, Jared required prescription painkillers for his tendonosis and was having trouble sitting at his desk for more than a couple hours at a time. By the time Marco finished university, his posture had collapsed, leaving him with low energy levels and nagging pains. And Shane was not only considered too fragile to spar with the other guys in his martial arts classes, he was also at high risk of having a heart attack due to his low bodyweight and poor lifestyle.
Taking care of your body is important. We learned that the hard way. Whether or not you choose to follow this program, you have to get this issue handled somehow. You need strong bones, strong muscles, and a strong posture.
With an exercise and diet routine that suits your body type and your goals, we know that you can become your best self. That's why we made this program. That's why we want to help you. That's why we promise you that we'll help you.
Here's what these women had to say about Bony to Bombshell
Hesitant to confident
I felt hesitant about joining an online program, but what other program is out there to help women gain weight?
They back everything with research and are very educated. They really put the work in for this lifestyle! I felt confident in what I was getting into.
I wish I had known sooner and been able to pull the trigger faster.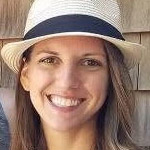 Addie E.
Educational Assistant
No more back pain!
My posture improved in an amazing way, and my back pain has by now completely disappeared.
On a more aesthetic point of view, I gained firm curves in the right places. I am still pretty slender but I look athletic and healthy, not anorexic anymore.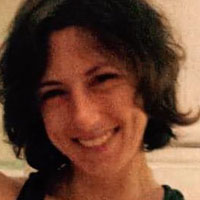 Cecile
Gained 13 pounds, Age: 28
Works—even from home
My biggest concern with purchasing the program was that I wouldn't see results, as I hadn't seen results from other workout programs. But I was wrong about that.
I have also done this program solely at home. It has required that I invest in some equipment but having the convenience of working out at home has made this program work for me.
I would definitely recommend the program if your goal is to gain weight/muscle and get stronger.
Celine H.
Policy Analyst, gained 11 pounds
Alright, that's our pitch. Are you in?
Complete
24.99/month for 12 months
eBook Guide that reveals the 3 Bombshell formulas to build muscle
Gain up to 16–24 pounds with 8 phases of workouts
Exercise video library you can stream anywhere
1-Year Access to the exclusive Bombshell member's community
12 easy-curves recipes that make eating enough easier
Standard
14.99/month for 12 months
eBook Guide that reveals the 3 Bombshell formulas to build muscle
Gain up to 15 pounds with 5 phases of progressive workouts
Exercise video library you can stream anywhere
1 Year Access to the exclusive Bombshell member's community
10 easy-curves recipes that make eating enough easier
Essentials
9.99/month for 12 months
eBook Guide that reveals the 3 Bombshell formulas to build muscle
Gain up to 9 pounds with 3 phases of progressive workouts
Exercise video library you can stream anywhere
1-Year Access to the exclusive Bombshell member's community
4 easy-curves recipes that make eating enough easier