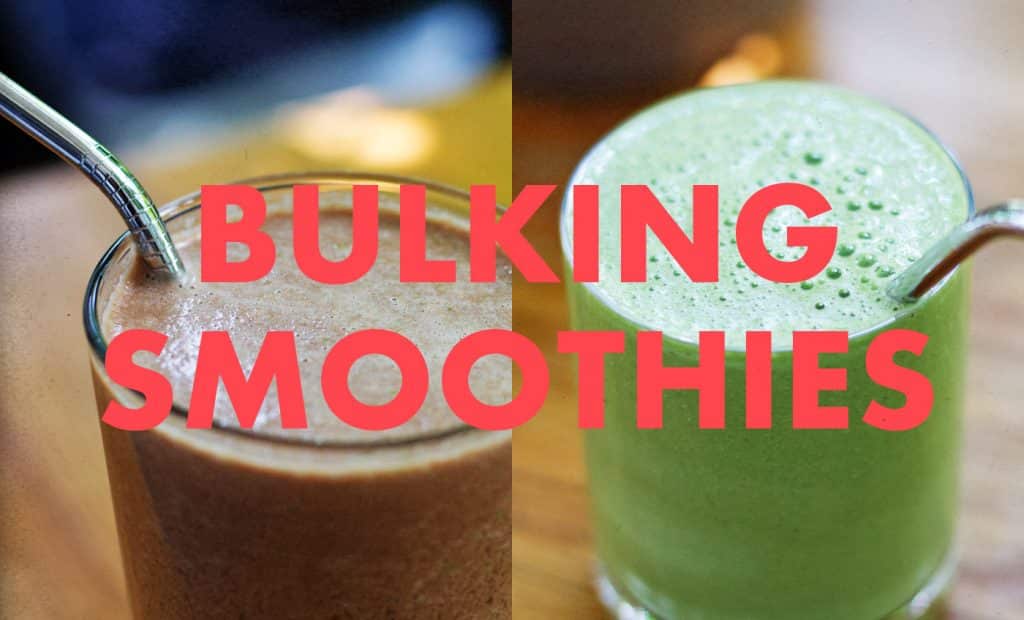 How to Make a Bulking Smoothie (for Gaining Weight)
Looking to make a smoothie to help with gaining muscle? A homemade bulking smoothie is one of the best tools at your disposal. When you blend food into a liquid, you remove chewing. Without chewing, it's a lot easier on your appetite, allowing you to reach your daily protein and calorie goals much more easily.
Let's take a closer look.
The Power of Weight-Gain Smoothies
The Benefits
One of the most fearsome tools in your muscle-building arsenal is your blender. If you're a woman and struggling to build muscle, it usually comes down to these two things:
You don't have enough time to devote to cooking.
You don't have enough appetite to devour your meals.
Say hello to the bulking smoothie. You can take protein, nutritious carbs, and healthy fats, toss them in a blender, and have a perfect weight-gain meal in minutes.
A good bulking smoothie can give you anywhere from 300 to 1,500 calories of balanced, nutritious and delicious liquid. The smoothie will be easy to drink, fit nicely in your stomach, and digest quickly, leaving your stomach ready for more. This will, in turn, help you build up a bigger appetite for your next meal, fueling muscle gain.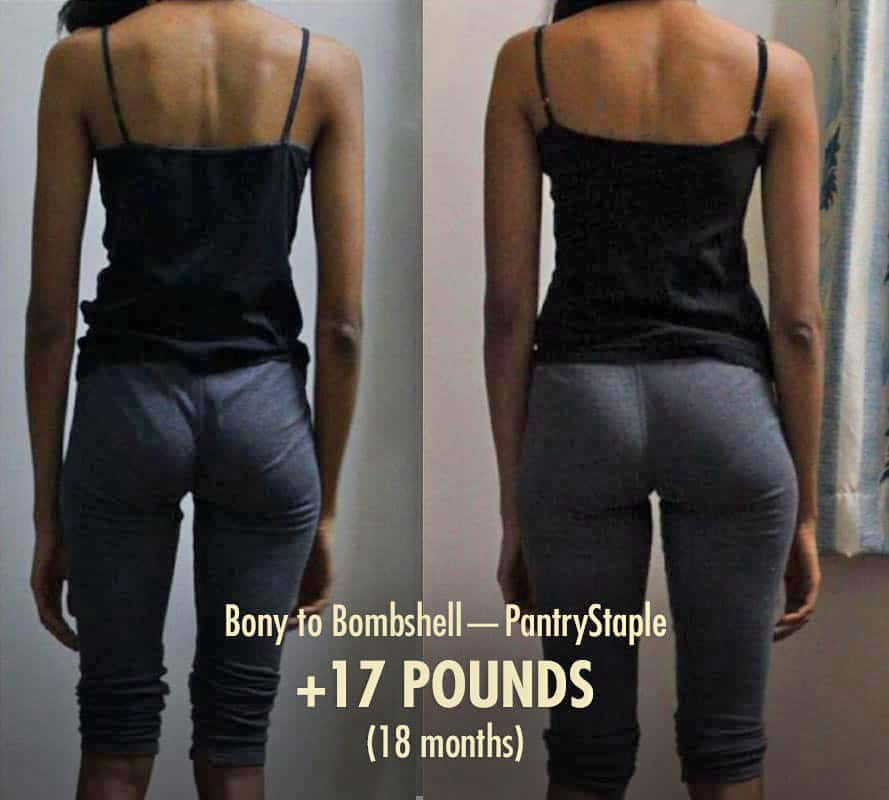 Bulking smoothies are also an excellent opportunity to thrash any weaknesses in your diet. Struggle to eat enough fruit and berries? Add a lot of them to your smoothie. Struggle to eat enough protein? Add 100+ grams of protein to your smoothie. Struggle to eat enough healthy fats? Toss in some nut butter.
The Best Weight-Gain Smoothie Ingredients
Protein. You'll need a protein source if you want to build muscle. Think of protein sources like Greek yogurt, milk, soy milk, raw eggs, pumpkin seeds, or protein powder. You can also get smaller amounts of protein from nuts, seeds, and oats.
Fruits and berries. Fruits are a great source of carbs and fibre. They'll make your smoothie sweet and tart, and they're fantastic for your health. Think of bananas, frozen mixed berries, mangoes, and pineapples. You can also make a smoothie sour by adding oranges, lemons, and limes.
Leafy greens. Veggies are a great source of fibre, vitamins, minerals, and antioxidants. Some vegges are more easily hidden than others. Fresh spinach and kale tend to be best. (Frozen spinach and kale will ruin the flavour of your smoothie.)
Fats. These will be your main calorie boosters. Think of whole-food fats like almond butter, peanut butter, mixed nuts, chia seeds, pumpkin seeds, avocadoes, and coconut milk. Their strong flavours can cover up the taste and texture of protein powders.
Fluids. Thick smoothies are hard to blend and drink, and they'll make you thirsty. Better to blend the fluid right in. Think of water, ice cubes, milk, or plant-based milk (like oat milk, almond milk, and soy milk).
Honey. Honey is a nutritious sweetener and a great source of carbs.
The Anatomy of the Perfect Bulking Smoothie
Enough protein. It won't be much of a bulking smoothie if there isn't enough protein. That would just be a regular fruit or green smoothie.
Enough calories. If there's enough protein, the smoothie can still be helpful, but if you really want to ramp up your results, your body needs energy from nutritious carbs and fats.
Good taste. Get the right flavour combination, and you'll be done drinking your smoothie in under a minute. Get the wrong flavour combo, and you'll still be able to chug it, but you won't like it.
Good texture. You want a creamy smoothie, not a lumpy, grainy, or fluffy one. Fluffy smoothies are full of air bubbles, taking up more space in your stomach and leaving you feeling gassy. To avoid that, blend the ingredients together without any protein powder, getting it to your desired smoothness. Then add the protein powder and blend very gently for a short time.
Steps To Making A Good Smoothie
Add your fruits and veggies. Mixed berries are rich in antioxidants, pack a ton of flavour, and deliver a wide array of vitamins. Pineapples and ginger are great for digestion, grapes are great as a sweetener, bananas are sweet and smooth, and citrus fruits add a nice twist. If you freeze the ingredients, they'll serve double duty as ice cubes, making your smoothie refreshingly cold. Frozen mixed berries keep great in the freezer. Freezing ripe bananas (after peeling them) prevents them from going bad.
Add your healthy fats. Chia seeds have omega 3s, nuts have monounsaturated fat, and dark chocolate (cacao) is a great source of antioxidants. Avocados will make your smoothie pleasantly creamy, but you'll need to mask the flavour with something strong (like cacao). Don't use coconut oil. It will harden like plastic. If you want a coconut flavour, use coconut milk instead.
Consider dairy or dairy alternatives. Milk, soy milk, oat milk, cottage cheese, and Greek yogurt are all great sources of calories, protein, and carbs. Choose the plain, unsweetened flavours.
Add raw honey as a sweetener if needed. If the bananas aren't sweetening your smoothie enough, honey is full of nutritious carbs. Dates are another good alternative.
Add water or ice cubes if needed. Blend until smooth.
Add your powders. Your smoothie may puff up if you add the powders at the beginning. Think of whey protein, rice protein (vegan), and any supplements you like (BCAAs, creatine, etc.)
Blend. Gently and only until the powders are mixed.
Drink.
Bulking Smoothie Recipe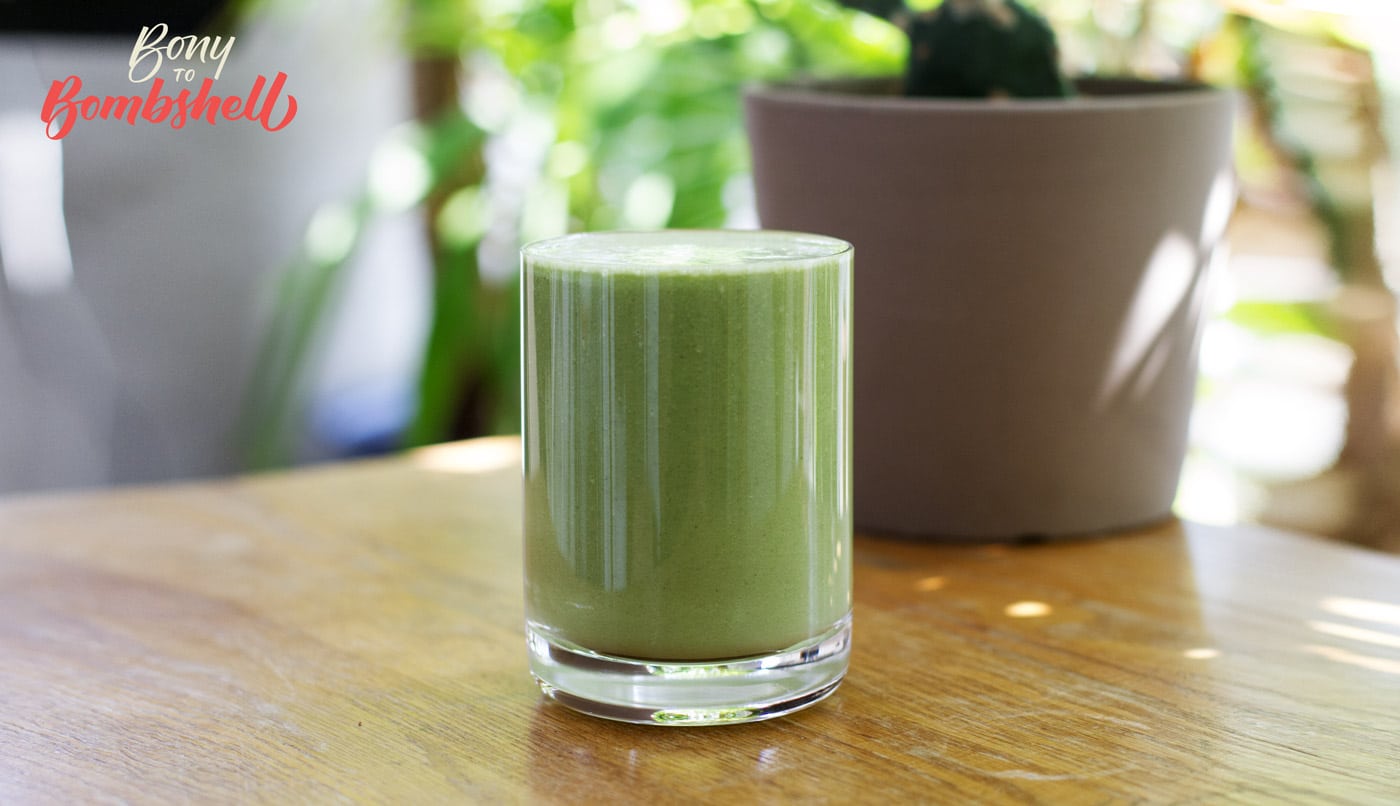 225ml of milk, soy milk, or oat milk
1 banana
1 tablespoon of almond butter
4 frozen strawberries
1 scoop of unflavoured whey isolate protein powder (or a powder of your choice)
Optional: a handful of fresh spinach (if uncooked greens agree with your gut)
Once it's blended fully and smooth, add one scoop of whey isolate powder or plant-based protein powder.
Here are the calories and macros:
500 calories per serving
40 grams of protein
50 grams of carbs
15 grams of fat
GET THE sample PDF recipes OF THE
weight-Gain Muscle-building Smoothies
Get some sample smoothies recipes in a downloadable PDF file. Get the full explanation, ingredient list, macros, and steps to follow.
Plus, we'll make sure you're on the Bony to Bombshell newsletter, and send you all of our best women's muscle-building content.
Frequently Asked Questions
Q: What blender should I buy?
A: First off, for smoothies, you need a quality blender. The best one lets you effortlessly blend up tricky ingredients (e.g. frozen berries) and allow you to blend bigger quantities. But if your budget is tight, even the lower-end blender will do the trick (and are often quite convenient). They just might die a little sooner, depending on what kind of work you give them. (I used to make all of my smoothies with a $20 GNC on-the-go blender before I got a Vitamix.)
Here's what one of our members had to say about the Vitamix blenders:
"I used to go through a Ninja every year. We bought a Vitamix and I never looked back. You can turn anything into liquid with them. We've had this one for 4 years now, it's used at least once a day, and there are no visible signs of wear. That's $200 worth of Ninjas already and they can't touch this thing for liquifaction."
Here are the best blenders you can find on Amazon (with affiliate links):
If you want to be able to use the dishwasher and not wash by hand, make sure you buy a blender that has "personal" sized blending jars.
Q: How can I make a good bulking shake without a protein powder?
A: If you can handle dairy, we have one smoothie recipe in our program that gets all of its protein from Greek yogurt, which is very high in protein. Kefir is another great source of protein.
If you're avoiding dairy, too, you can get quite a bit of protein from soy milk, pumpkin seeds, peanut butter, oat milk, and soybeans. You only need about 20 grams of protein in a smoothie for it to be a balanced meal.
Q: What are the best fruits to add to a smoothie?
A: Your favourite ones 🙂 Some good options include:
Bananas (fresh or frozen)
Blueberries (fresh or frozen)
Mangoes (fresh or frozen)
Grapes
Avocados
Q: What are some good flavour combination ideas?
Raspberry Mocha: Instant coffee, milk, frozen raspberries, chocolate whey protein (or chocolate milk or cacao powder)
Chocolate Orange: Chocolate milk, cottage cheese, an orange
Reese's: Peanut butter, oats, milk, chocolate whey protein
Tropical: Pineapple, peaches, mango, banana, coconut milk, oranges, limes
Health Nut: Spinach/kale/collard greens, carrots, mixed berries, Greek yogurt, coconut milk, eggs
Dessert: vanilla frozen yogurt, milk, Greek yogurt + flavour (berries, chocolate, nuts, etc.)
What Next?
Remember—eating enough calories and protein are just two pieces of the puzzle! Don't forget hypertrophy training to stimulate muscle growth, sleep for energy and recovery, and a balanced and healthy lifestyle (insofar as that's possible).
If you liked this article, you'd love our muscle-building newsletter. We'll keep you up to date on all the latest muscle-building information for women. Or, if you want us to walk you through the process of building muscle, including teaching you the lifts, giving you a full workout program, a complete diet guide, a recipe book, and online coaching, check out our Bony to Bombshell Program.