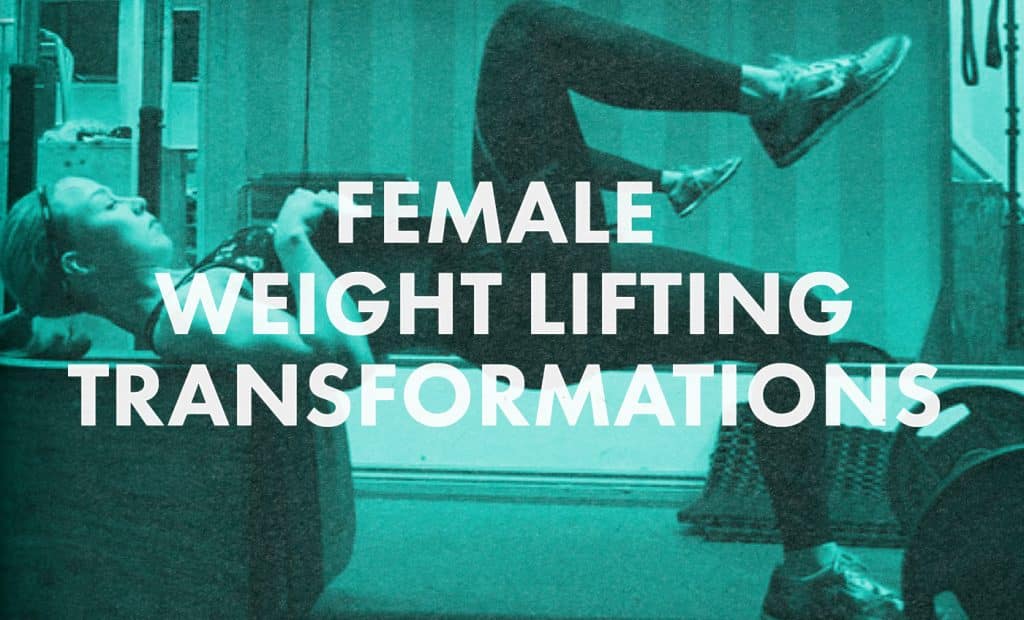 Female Weight Lifting Transformations—4 Case Studies
See how these women combined lifting weights, nutrition, and lifestyle changes to see amazing before-and-after transformations. Inside we'll take a closer look at four women as they set goals, begin lifting weights and eating differently, and see their monthly progress updates.
The Big Picture When It Comes To Body Transformations
The Three Pillars—Lifting, Nutrition, & Lifestyle
To get a remarkable body transformation from muscle gain, you'll need these pillars in place.
Enough protein and calories.
Enough lifting.
Enough sleep.
Without enough protein, your muscles won't recover from the weight lifting workouts. Without enough calories, your body won't have the energy needed to build new muscle (and maintain it). (However, if you're a skinny-fat or overweight woman, you already have enough calories stored to get started and will just need protein, lifting, and good sleep.)
Without lifting weights, your body won't get the message that it needs to adapt and build bigger, curvier, stronger muscles in response.
And without a healthy lifestyle in check, which includes things like sleep, reasonable sunshine, walking, etc., then your body won't be in good enough shape to see results.
Miss just one of these pillars, and the transformation won't happen. This is why so many women fail to see results despite putting in a lot of work.
Maybe some women are lifting weights like clockwork but aren't eating a diet to support muscle growth. Maybe they've locked down the diet, but their workout program isn't effective for muscle-building and lacks a way to progressively overload the muscles, leading to a plateau. You need to have everything in place for remarkable results.
Results From The Bony To Bombshell Program
All of the lifting transformations below are from members who have joined the Bony To Bombshell female muscle-gain program. They had such killer results we asked them if we could share their results, and they gave us their permission. The program teaches you what to eat, how to eat, how to lift weights (even if you're a total beginner), gives you a full workout routine, and includes guaranteed results in our coaching community. Click here to see even more before and after transformations and read dozens of stories.
Aomi Before And Afters Transformation
Before
Aomi is 5'7″ (170cm) tall and started off at 125.6 lbs: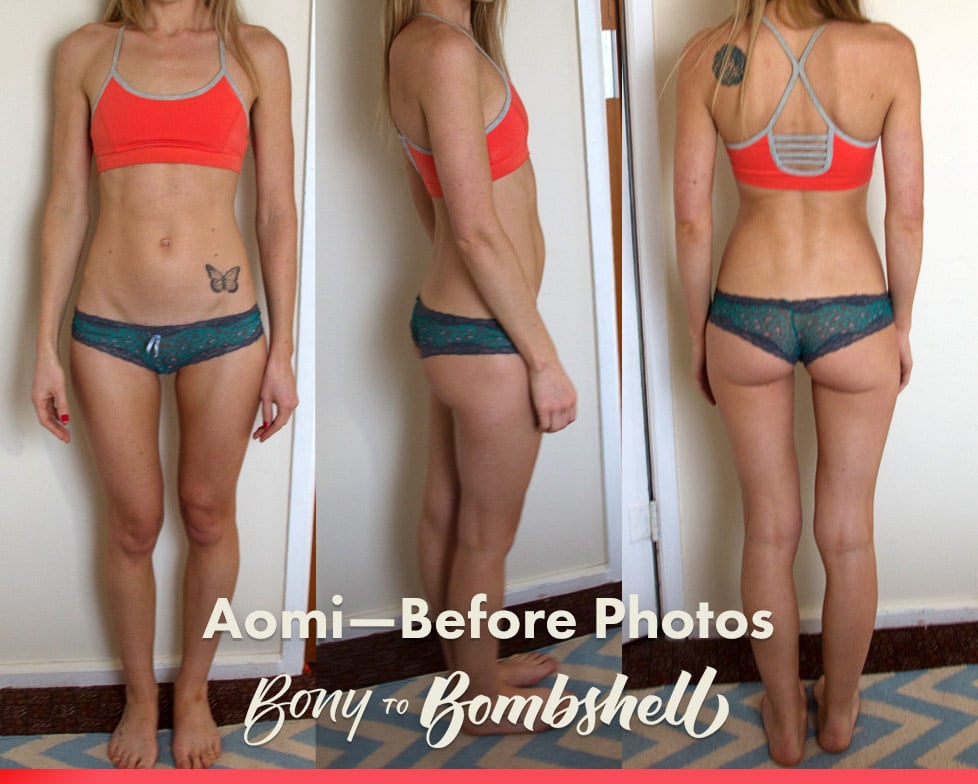 In her first week of lifting as a beginner, she found she could glute bridge 110 pounds. After going through the program, she experimented and created a weight gain smoothie that she relied on to help her eat enough calories.
Here's what she said:
"one day I went through my kitchen and added every high calorie food I could think of – it ended up being banana, cherries, raw cacao powder, coconut oil, almond butter, hemp seeds, half an avocado, and canned full fat coconut milk. I think it ended up being something like 2000 calories! So that's pretty much a staple for me!"
She was not big on protein powder:
"I'm just not a protein powder person. For me it needs to be a whole food."
End Of 5 Weeks
After her first five weeks (one complete phase of workouts), here was her update:
Weight: 125.6 → 133 +7.4 lbs
Waist: 26 1/4″ → 27″ +3/4″
Hips: 36″ → 38″ +2″
Thighs: 20.5″ → 21″ +1/2″
Shoulders: 39 1/4″ → 40″ +3/4″
She gained nearly 1.5 pounds per week! And over 2″ on her hips. In just five weeks of lifting, she nearly reached the optimal 0.7 waist-to-hip ratio.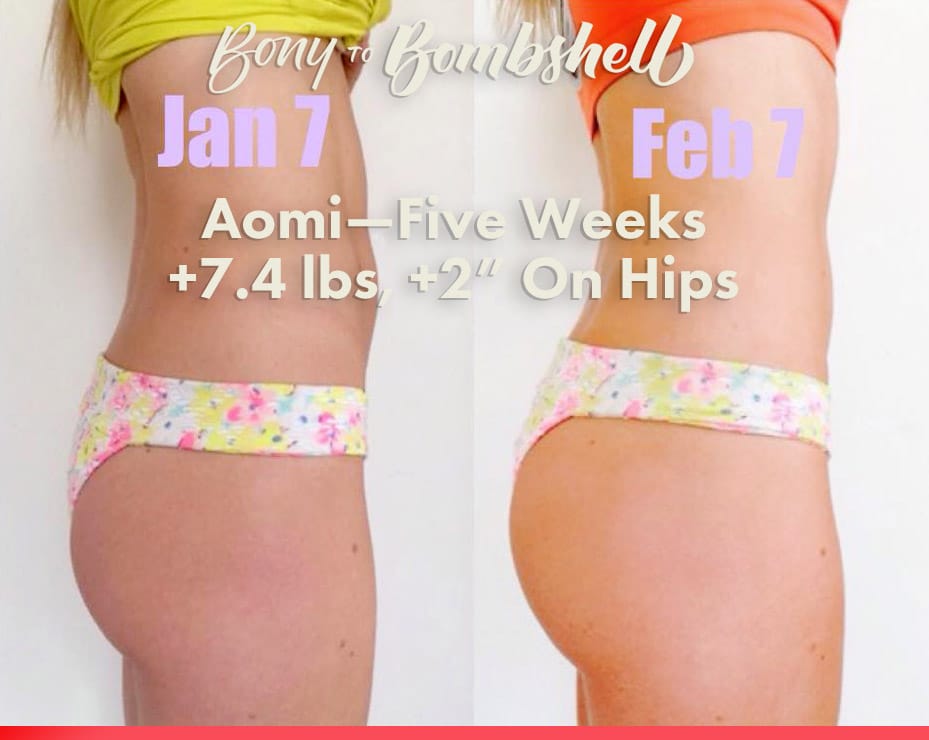 "I'm so happy I've gained the most in my hips! That's exactly where I wanted it…THANK YOU BONY TO BOMBSHELL!!! You guys are amazing, and exactly what I needed. I find myself looking forward to the workouts, and after seeing results already I am totally fine with lifting weights for the rest of my life!"
As she headed into phase two, she mentioned she started relying on a lot of eggs. Here's what she said:
"I use a lot of eggs- I'll boil a bunch for the week so if I'm hungry I can just have one anytime. I also add raw eggs to my smoothies. Not the chocolate one above, but if I want a "lighter" fruit smoothie I'll do fruit, 2 raw eggs, some vanilla, and some coconut milk."
End Of 14 Weeks
Like many of our Bombshell members, progress wasn't linear, and she had a few weeks on and off.
"Phase 2 (finally) complete! I actually got about 4 weeks into Phase 2 previously, but my workouts just got more and more scattered, so I'm glad I just did the whole thing again. It felt great… I've been lifting as heavy as possible with the deadlifts and heavy glute bridges. On the deadlifts I can comfortably do 175, I tried 185 and managed but it felt like I was pushing it a bit. On the glute bridge I've gone as high as 245 [lbs]- that's when the reps are around 6."
Weight: 125.6 → 133 → 137 +11.4 lbs
Waist: 26 1/4″ → 27″ → 27″ +3/4″
Hips: 36″ → 38″ → 38″ +2″
Thigh: 20.5″ → 21″ → 21″ +1/2
Shoulders: 39 1/4″ → 40″ +3/4″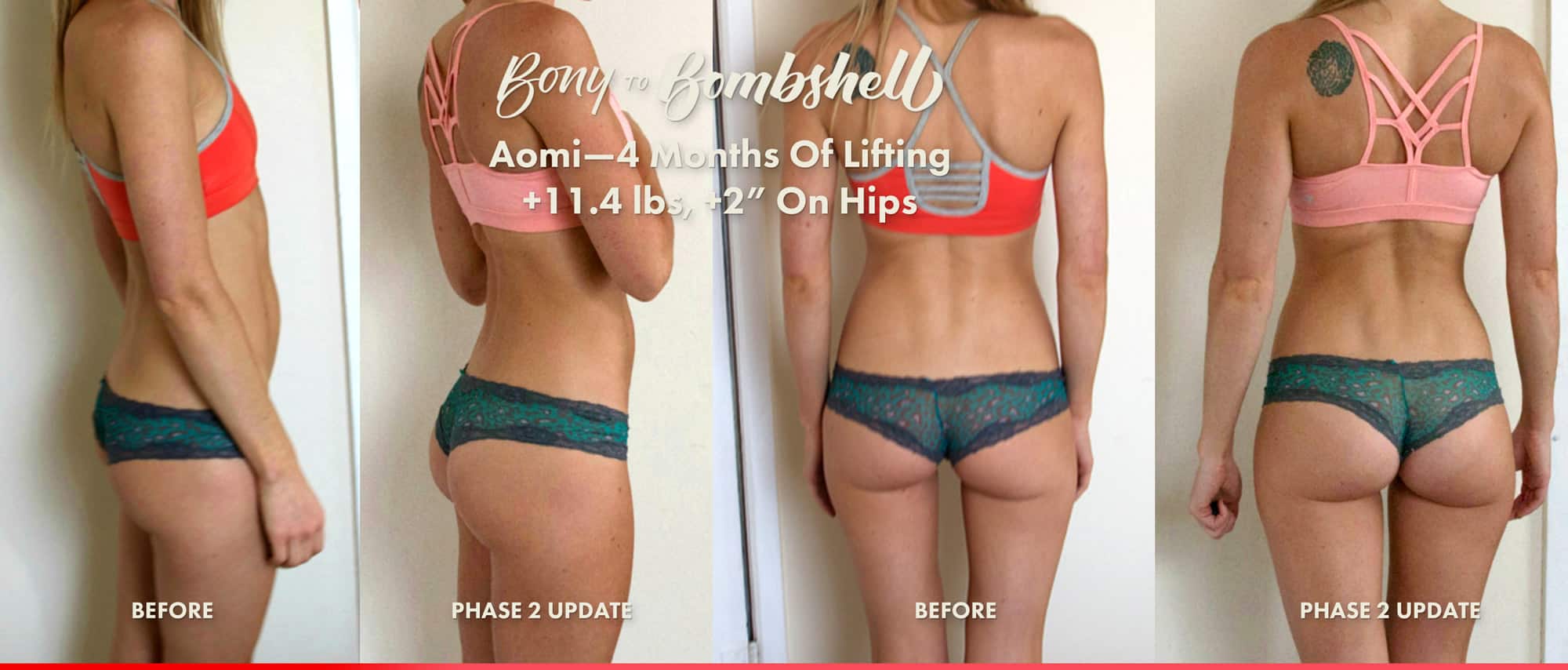 These photos were 6.5 months since her introduction, but it sounds like about 14 weeks (3.5 months) of consistent lifting. And that's okay! One thing to remember is to focus on progress and to give yourself permission to take time off if needed. We're not full-time bodybuilders. We're real-life people with family, work, school, and other commitments.
"I did add more meat into my diet but I still try to source from plants as well. But probably even more than meat it was a lot of eggs and full fat coconut milk that helped me gain weight. I eat so many eggs. And add coconut milk to everything. I also do a lot of almond butter and peanut butter."
One Year Of Lifting
Here is Aomi's final phase update, a year since she originally started: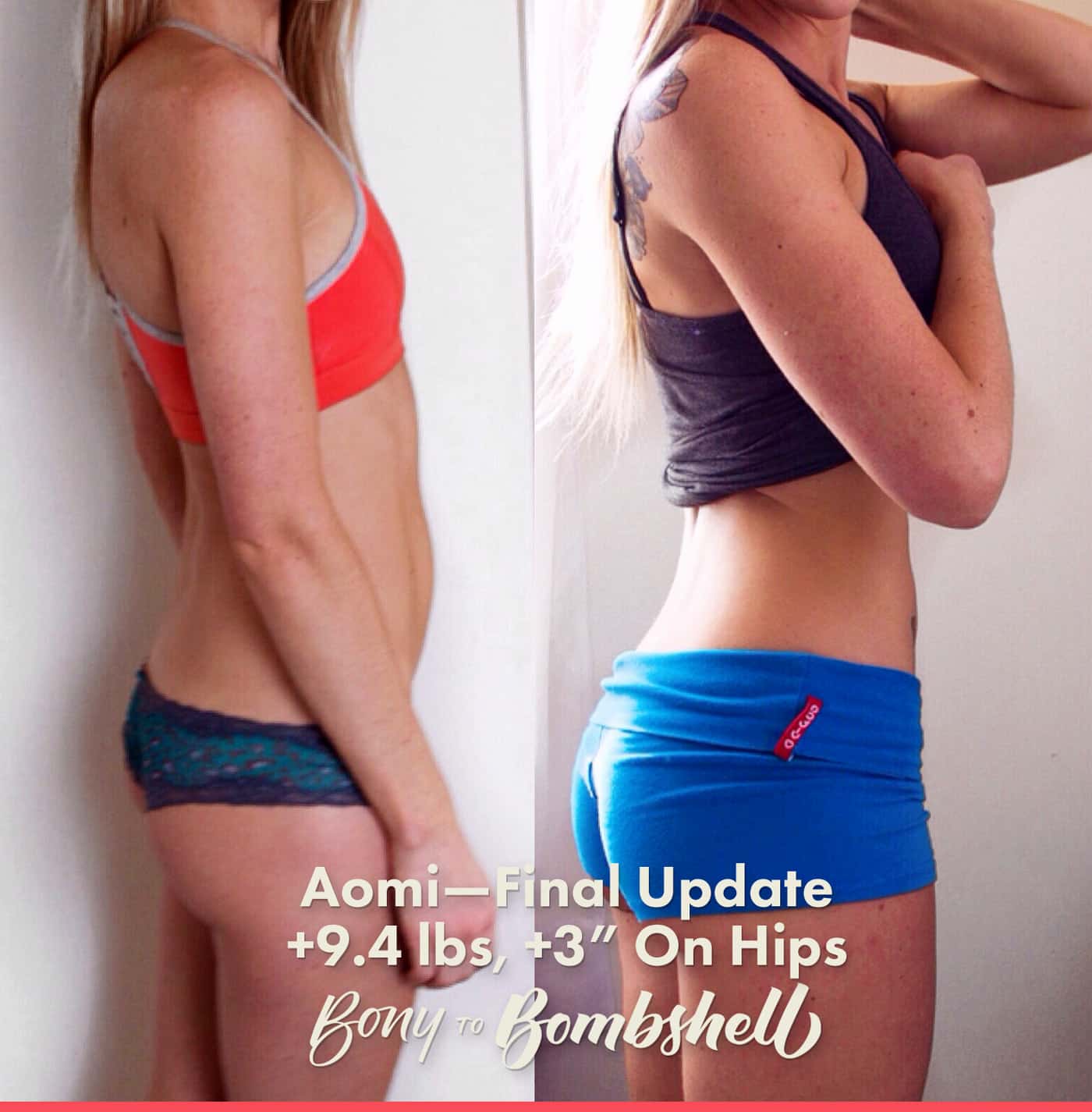 "I did it! Finally! Completed the last phase about a week ago. My final weight is 135, up 9 pounds from when I started. I got up to 137 at one point and that was quite impressive – I think since then I've probably been eating a bit less (i.e. not stuffing my face every moment of every day) and I've been doing more cardio too. It's been an interesting journey to see how the slightest fluctuations in weight look on my body, and ultimately I'm thrilled with a steady 135 – it's more than I've ever weighed and I still feel slender, strong, but not skinny."
"As far as weights I've set some awesome PRs! My glute bridge just got up to 300 pounds and my deadlift 195 pounds."
"For now I've had a lot of fun just making up my own workouts. I'm definitely not giving up any heavy weightlifting – deadlifts, glute bridges, and squats will be a forever part of my plan."
Final before and after measurements:
Weight: 125.6 lbs → 133 → 137 → 135 +9.4 lbs
Waist: 26 1/4″ → 27″ → 27″ → 27 1/2″ +1.25″
Hips: 36″ → 38″ → 38″ → 39″ +3″
Thigh: 20.5″ → 21″ → 21″ → 21″ +1/2″
Shoulder: 39 1/4″ → 40″ → 40″ → 40″ +3/4″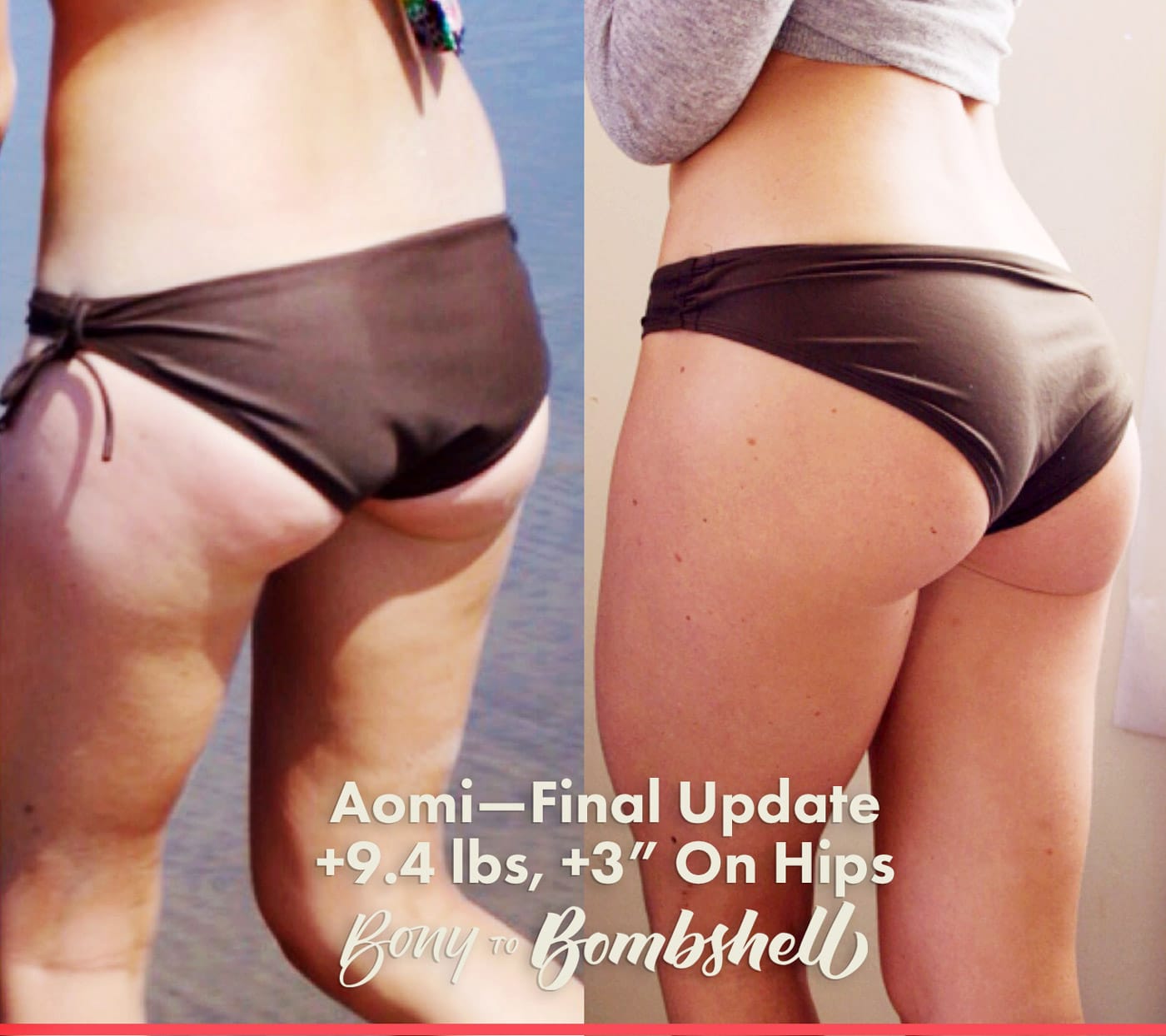 GET THE free GOOGLE SPREADSHEET OF THE
female BEGINNER'S FULL-BODY with glute targeting WORKOUT
Get the glute targeting workout as a Google spreadsheet. You'll be able to pick from exercise alternatives, and fill out the sheet.
Plus, we'll make sure you're on the Bony to Bombshell newsletter, and send you all of our best women's muscle-building content.
Cecile's Before And Afters Transformation
Before
Cecile is 5'7″ tall (170cm) and started off weighing 96.5 pounds. She was brand new to lifting weights.
"I am also very active (a lot more on the cardio and aerobics side though, I have never lifted heavy weights in my whole life), and I have a pretty high metabolism."
"I am eating almost everything and in big quantities, it is always some wholesome, healthy, non-processed food. I take a huge breakfast, a substantial lunch, a big snack and a filling dinner. It is clean and well-balanced."
Here are her "before" measurements.
Weight: 96.5 pounds
Waist: 26″
Hips: 32.5″
Thighs: 16″
Shoulders: 36″
Biceps: 8″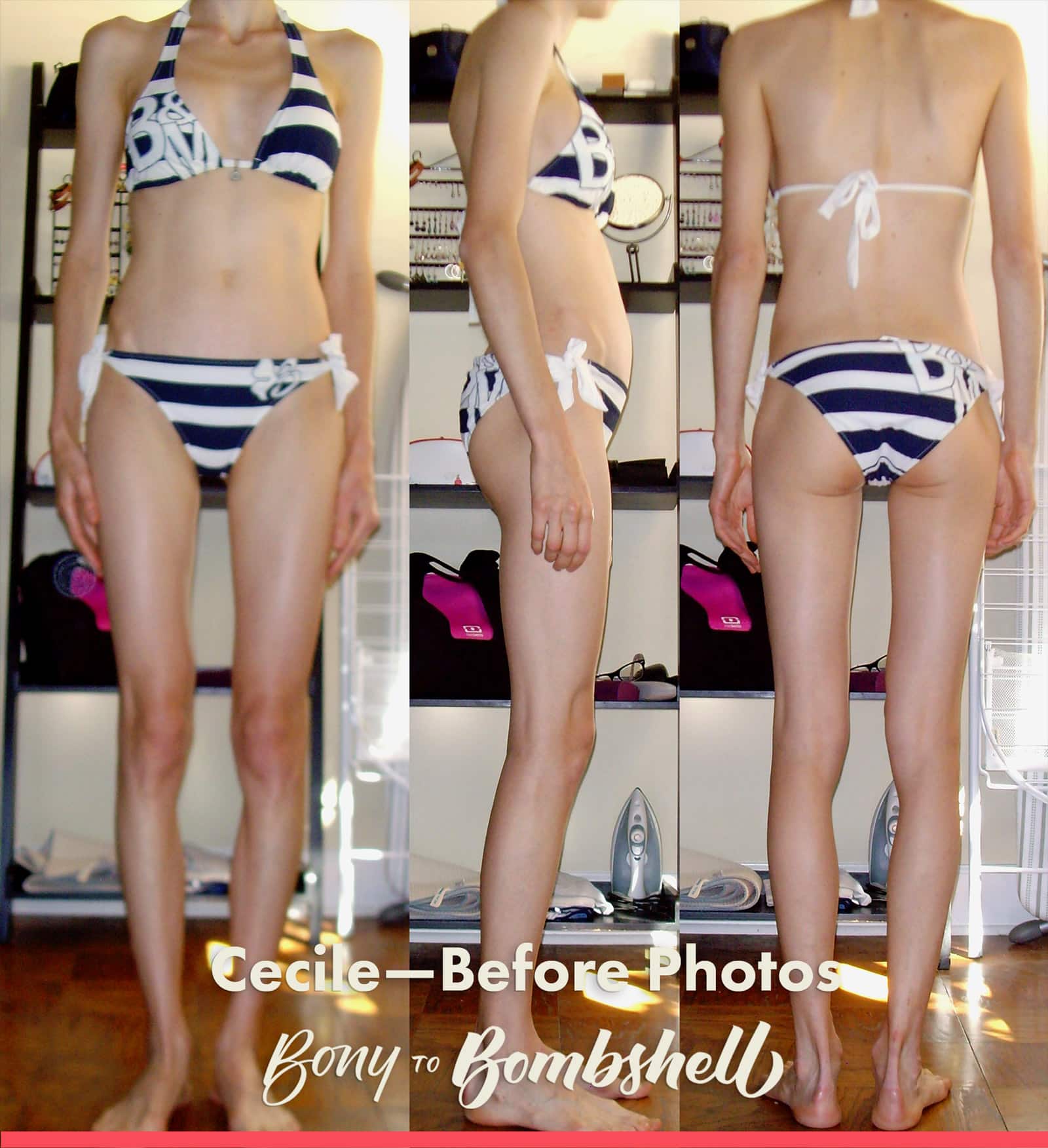 "I've just had a quick look at my pictures again and – apart from the "wow so skinny" reaction of course – it definitely seems that there is a lot of room for progress in terms of posture."
End Of Five Weeks
Here is her phase 1 update (five weeks of training).
"Done with Phase One, looking forward to Phase Two! Notwithstanding my back injury and the subsequent healing period – between Week Two and Week Three, I have managed to gain +7.4 pounds! :p"
After a minor setback with some back pain, which required taking a couple of weeks off, Cecile picked up the weights again, adapted her form, and kept at it.
Weight: 96.5 → 104 +7.4 lbs
Waist: 26″ → 27″ +1″
Hips: 32.5″ → 33.5″ +1″
Thighs: 16″ → 18″ +2″
Shoulders: 36″ → 38″ +2″
Biceps: 8″ → 9″ +1″
"I love all the now stuff in Phase Two! 🙂 Apart from the deadlift – which is pretty badass of course :D, I find that using the barbell is ten times more convenient than dumbbells for the RDL, I feel my side abs working better with the Half Kneeling Pallof Press rather than with the Side Planks, and I actually enjoyed the Dumbbell Swing & Goblet Squat Ladder."
"I just went back [home] for a few days. I got a chance to meet with my family and my friend, which I hadn't had a chance to see for over 5 months (so well before I started with the B2Bomb program), and they all noticed the change! They said I looked amazingly fit and healthy… Thank you so much guys for all the good changes you've brought into my life! :)"
End Of 10 Weeks
Here's Cecile's Phase 2 Update:
Weight: 96.5 → 104 → 107.8 +11.3 lbs
Waist: 26″ → 27″ → 26″ 0″
Hips: 32.5″ → 33.5″ → 34″ +1.5″
Thighs: 16″ → 18″ → 18.5″ +2.5″
Shoulders: 36″ → 38″ → 39″ +3″
Biceps: 8″ → 9″ (+1″) → 9.5″ +1.5″
"No comments. The figures and the pictures speak for themselves. B2Bomb is working beyond all expectations. Now my objective is clear: perfect posture!"
End Of 15 Weeks
Here's Cecile at the end of the phase 3 lifting program:
Weight: 96.5 → 104 → 107.8 → 109.6 +13.1 lbs
Waist: 26″ → 27″ → 26″ → 27″ +1″
Hips: 32.5″ → 33.5″ → 34″ → 35″ +2.5″
Thighs: 16″ → 18″ → 18.5″ → 18.7″ +2.7″
Shoulders: 36″ → 38″ → 39″ → 39.5″ +3.5″
Biceps: 8″ → 9″ (+1″) → 9.5″ → 9.7″ +1.7″
"Regarding the Glute Bridge, I currently perform 10 reps of 325 pounds, but I am still a bit shy to add some more weights."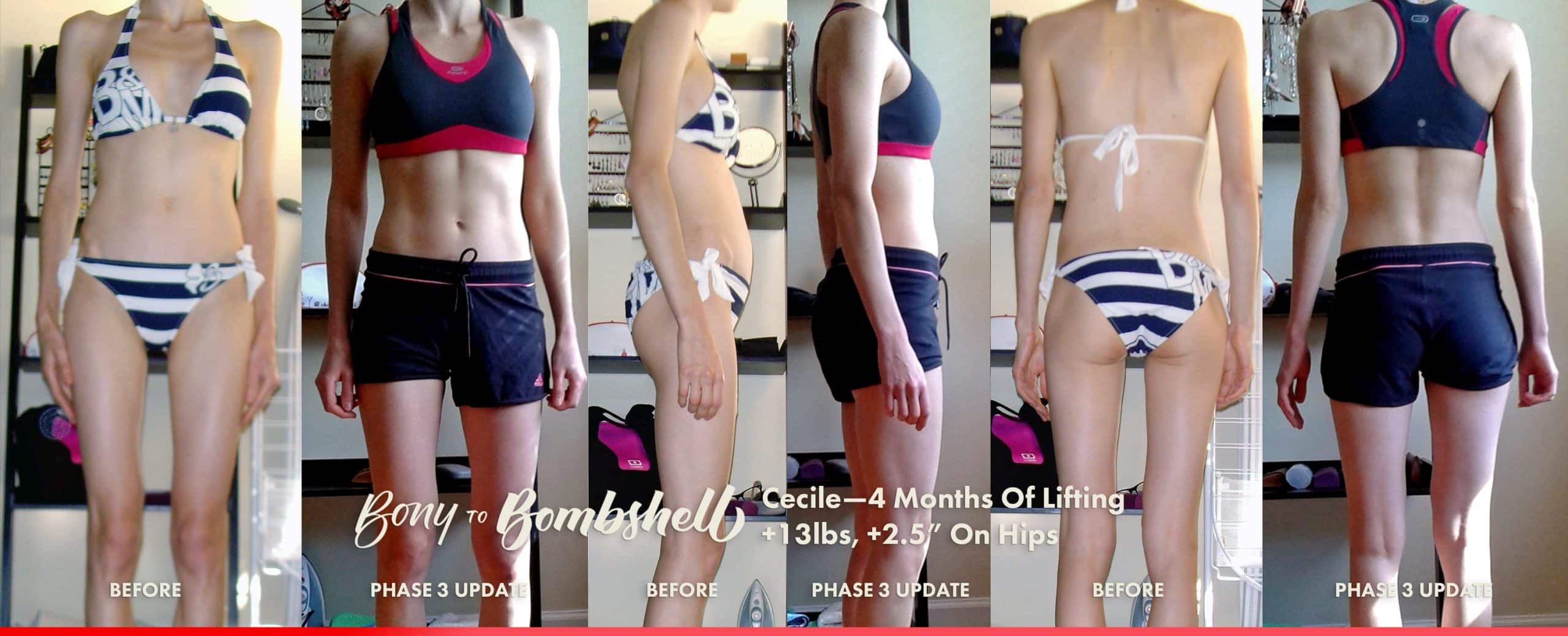 At the end of phase 4, Cecile had finished the official program. End of Phase Four: 110.7 pounds. Up another pound.
"Most of my measurements have stayed the same as in the previous phase, except for a small increase in my hips circumference. :)"
"I feel a bit sad to finish the program, but so happy of the change it has brought to my life. I have gained almost 15 pounds, but only – also a much better posture, amazing lifestyle habits, and above all a lot more confidence."
The Final Update
We gave Cecile a bonus phase of workouts, and she peaked at an all-time high of 111.5 pounds, or 15 pounds heavier than when she started. Cecile crushed it. Her posture improvements and willingness to keep up with the routine are inspiring.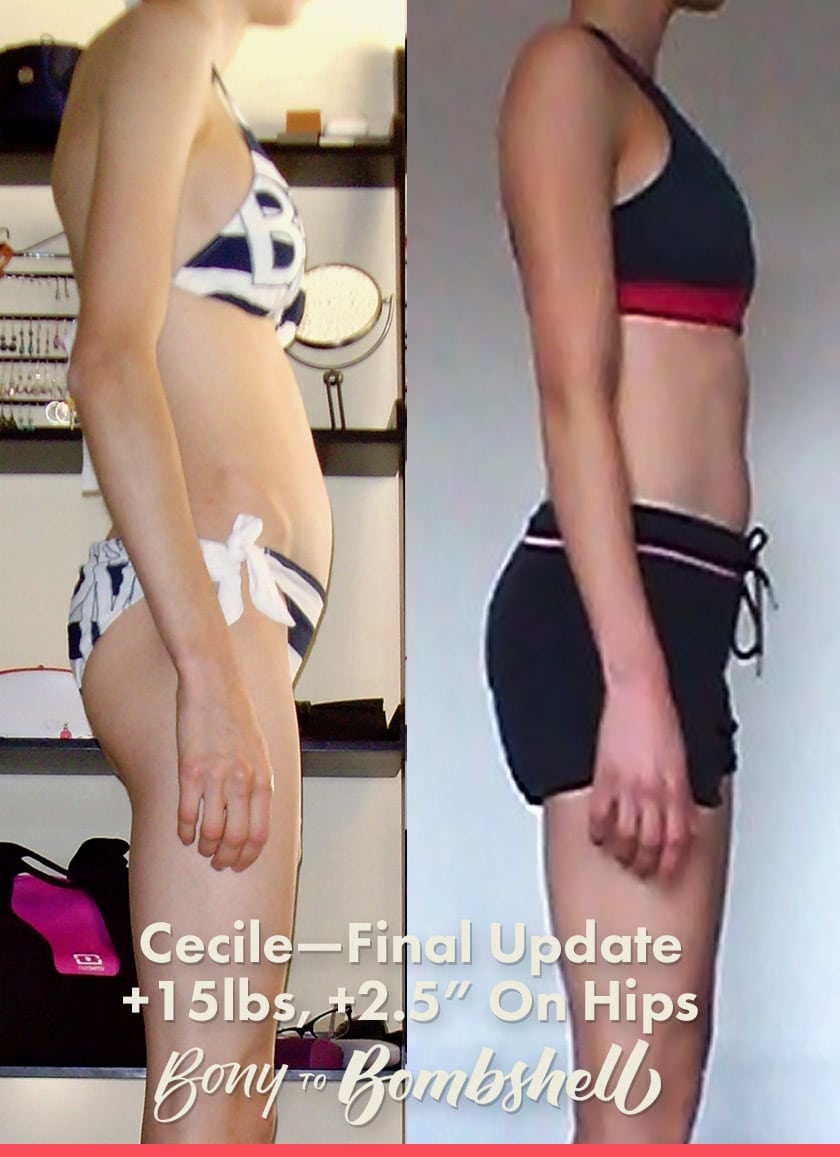 Nairita's Before And Afters Transformation
Before
Nairita is 5'1″ (155cm) and used to be 96 pounds.
End Of 10 Weeks
One day, she introduced herself in the coaching community at the end of phase two (10 weeks of lifting) with this update:
"I should have taken my measurements when I started B2B early this year. Ah well! But I guess it is better late than never."
Weight: 96 → 101.4 +5.4 lbs
Waist: NA → 25″
Hips: NA → 35.3″
Thighs: NA → 20.3″
Shoulders: NA → 35.5″
"I found pictures taken a while back and I was shocked to see how I used to look like before B2B!"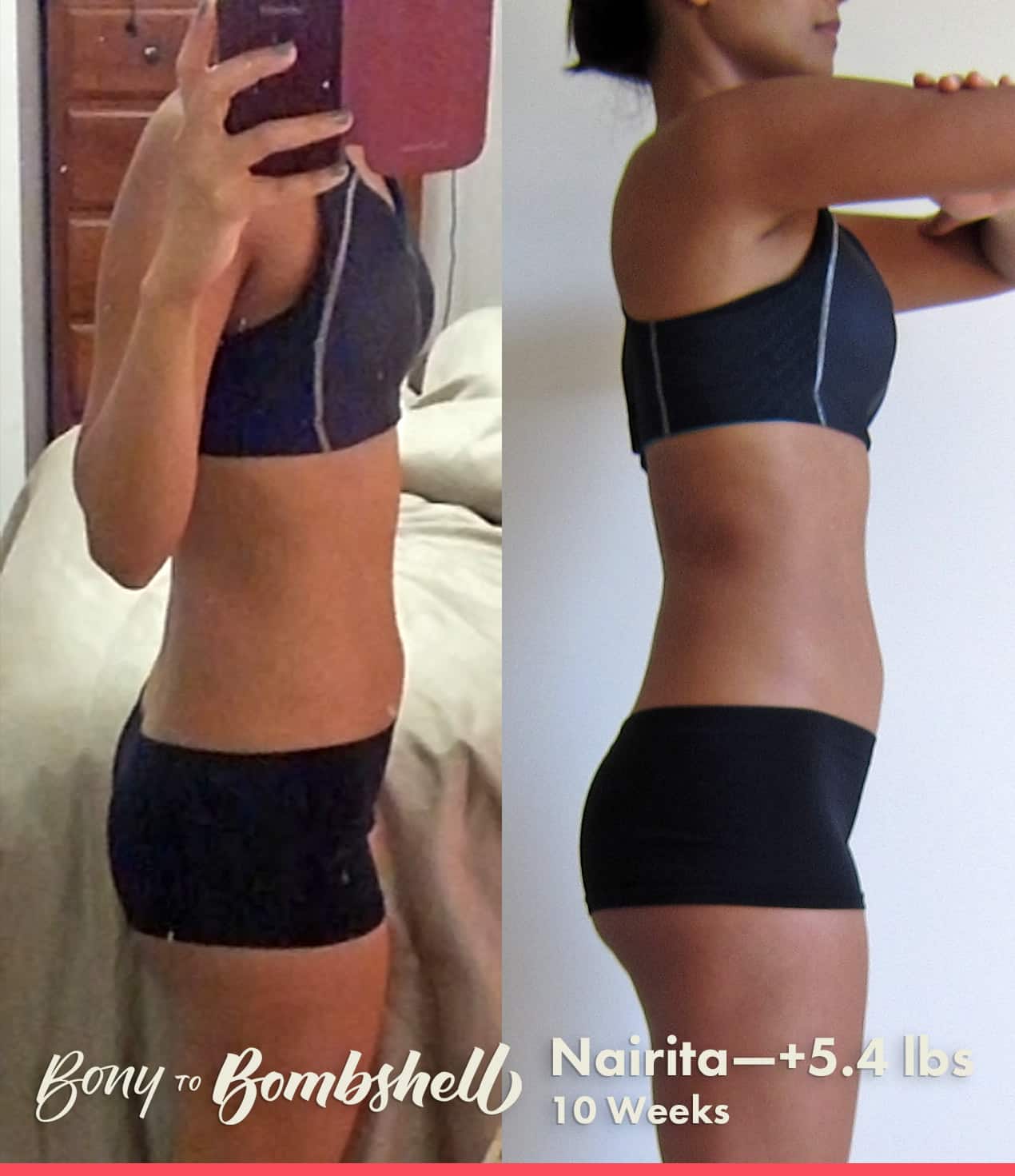 "My appetite has gone up a lot! and I mean a lot! I have been waking up starving. I kept increasing my calorie intake every week. My face is noticeably skinnier now. I guess that means I need to eat more!?"
End Of 15 Weeks
Here's her end-of-phase 3 update (15 weeks of lifting):
Weight: 96 → 101.4 → 103.5 +7.5 lbs
Waist: NA → 25″ → 24.5″ –0.5″
Hips: NA → 35.3 → 35.3″ 0″
Thighs: NA → 20.3 → 21.0″ +0.7"
Shoulders: NA → 35.5 → 36.3″ +0.8″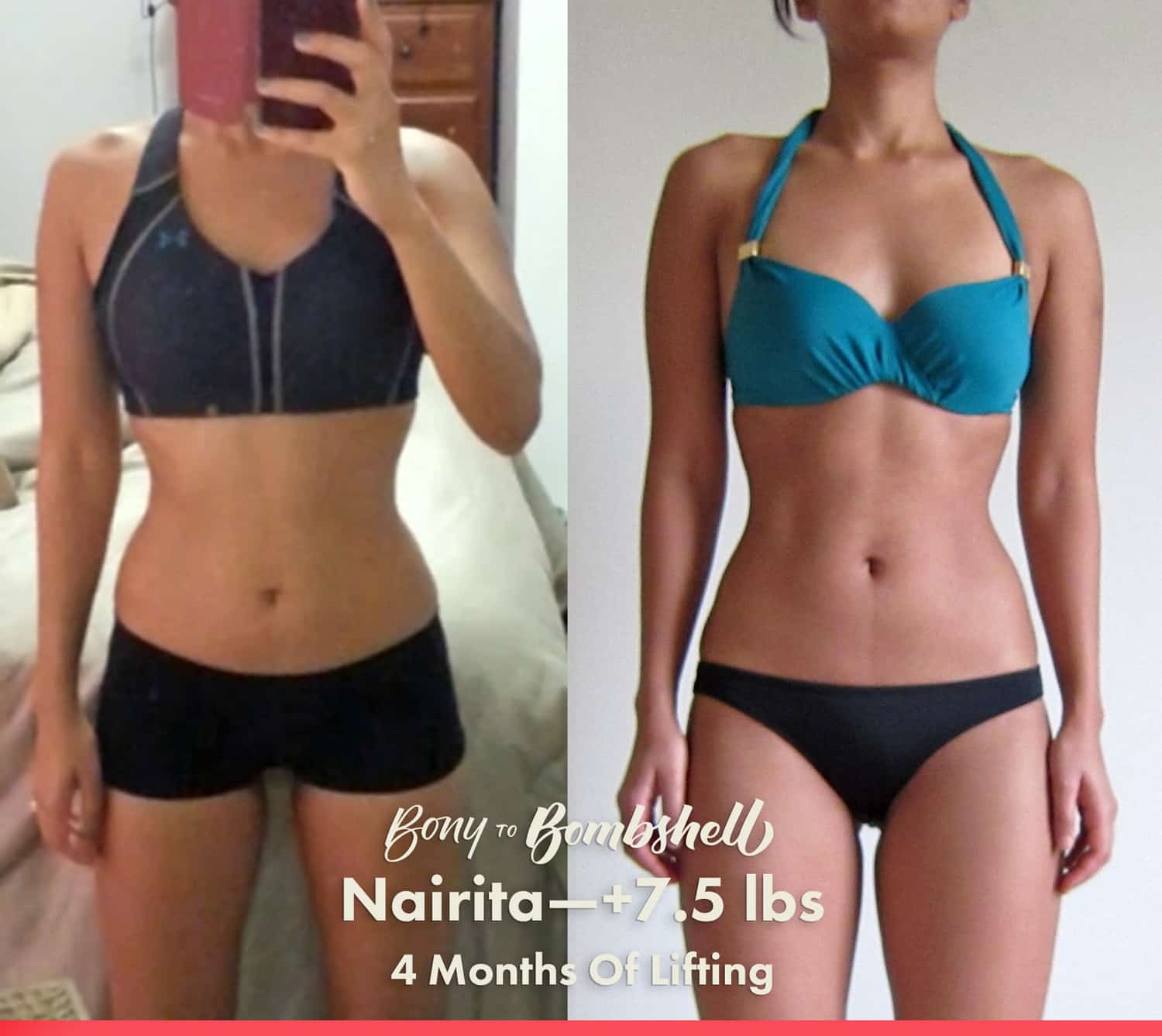 "My glute bridge is at 175lbs and deadlift 135lbs."
Nairita did amazing and showed how lifting weights with a proper muscle gain diet can not only make you stronger and curvier but with a leaner and more toned stomach too. The fact that she lost half an inch off her waist while gaining 7.5 pounds shows that she burnt off some fat while adding lots of muscle!
Yoifran's Before And Afters Transformation
Yoifran is a 5'3″ (160cm) mom of two and started off at 102 pounds.
"In the past two years I've tried to gain muscle with no luck, I have hired three online coaches (instagram famous) and one personal trainer, I never gained more than 2 pounds and the diet in all the cases was too extreme, 6 meals a day consisting basically of boiled fish or chicken, broccoli, oatmeal cooked in water and egg whites, I got to a point where i thought that if that's what it takes i'd rather stay skinny and unfit I enjoy food too much to be eating like that :confused:"
"My main goal is to look fit and strong, have more energy to keep up with my two toddlers, and if possible, have no bones showing :)"
Before Measurements Two Weeks Into Lifting
Weight: 102 lbs
Waist: 26″
Hips: 36″
Shoulders: 36″
End Of Phase 1—5 Weeks Of Lifting
Weight: 102 → 108 +6 lbs
Waist: 26″ → 26″ 0″
Hips: 36″ → 37″ +1"
Shoulders: 36″ → 37″ +1"
"I swear that shoulder was not there before hahahaha I have made more progress with this full body routine than when working isolated shoulders. Incredible!"
End of Phase 2—10 Weeks Of Lifting
Weight: 102 → 108 → 111 +9 lbs
Waist: 26″ → 26″ → 26″ 0″
Hips: 36″ → 37″ → 37.5″ +1.5″
Shoulders: 36″ → 37″ → 37.5″ +1.5″
"I got to see my parents, I haven't told them I'm gaining weight, and they both told me I look much better and healthier so that is definitely a good sign. When I told them that I gained 10 lb they couldn't believe it."
"I'm starting phase 3 trying to lose some fat I am much, much stronger in all the lifts, but I would like to cut back fat before trying to put on more weight."
End of Phase 3—15 Weeks Of Lifting With 5 Weeks Of Fat-Loss
Weight: 102 >> 108 lb >> 111 >> 109 +7 lbs
"I'm currently doing 195 lb glute bridges and I was able to do my first ever chin up yeiiiiiii."
End of Phase 4—20 Weeks With 10 Weeks Of Fat-Loss
Weight: 102 → 108 → 111 → 109 → 108 +6 lbs
Waist: 26″ → 26″ → 26″ → 25″ –1″
Hips: 36″ → 37″ → 37.5″ → 36.5 +0.5"
Shoulders: 36″ → 37″ → 37.5″ → 36.5 +0.5"
"I have to say I love this program, I see huge changes in my body and in my mind!!! I feel so empowered and strong."
"I'm enjoying the workouts so much. I hit a glute bridge of 215 lb this week (2x my body weight)!!! and I'm absolutely happy about that, I was able to do 2 full chin ups (no salmon technique hahahaha)."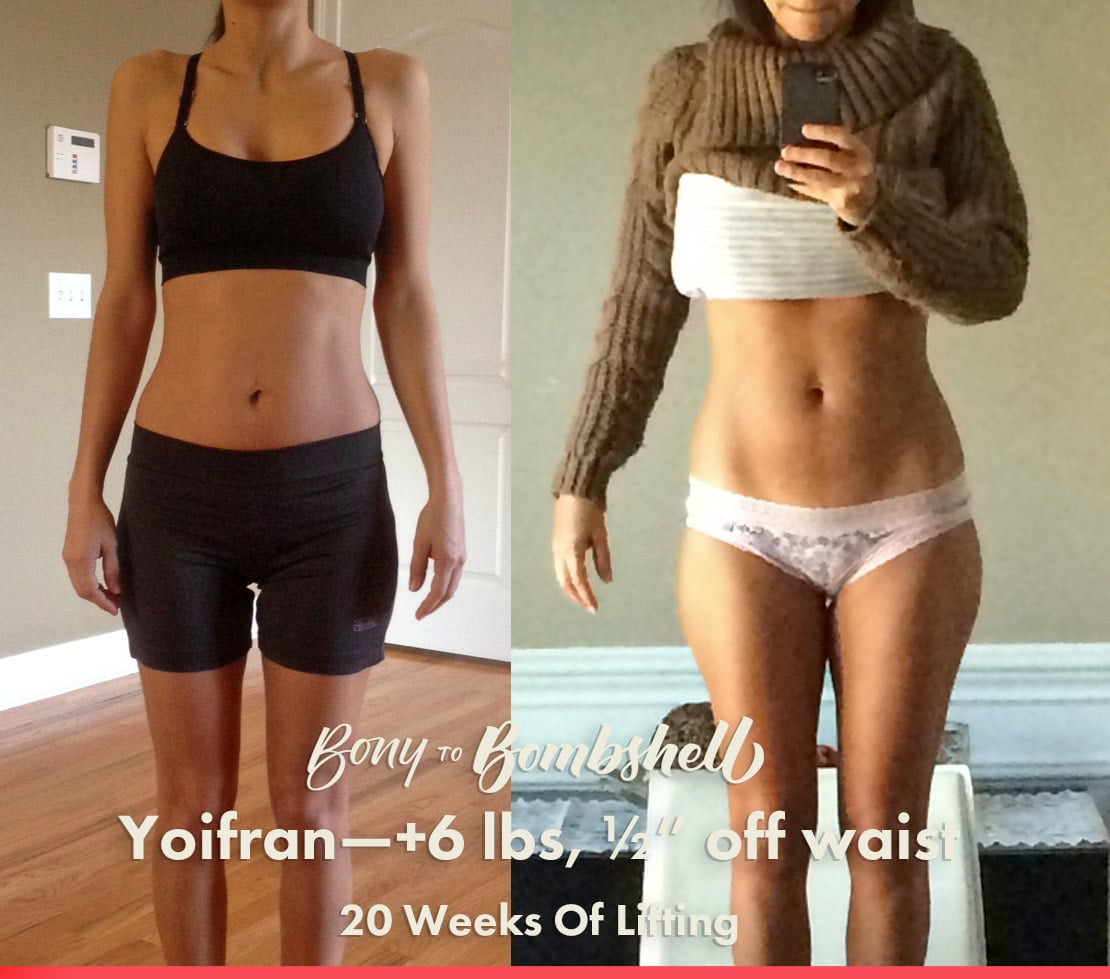 Final Update
"Thank you very much @Shane and @Marco it's been an incredible journey and it has truly changed permanently my lifestyle."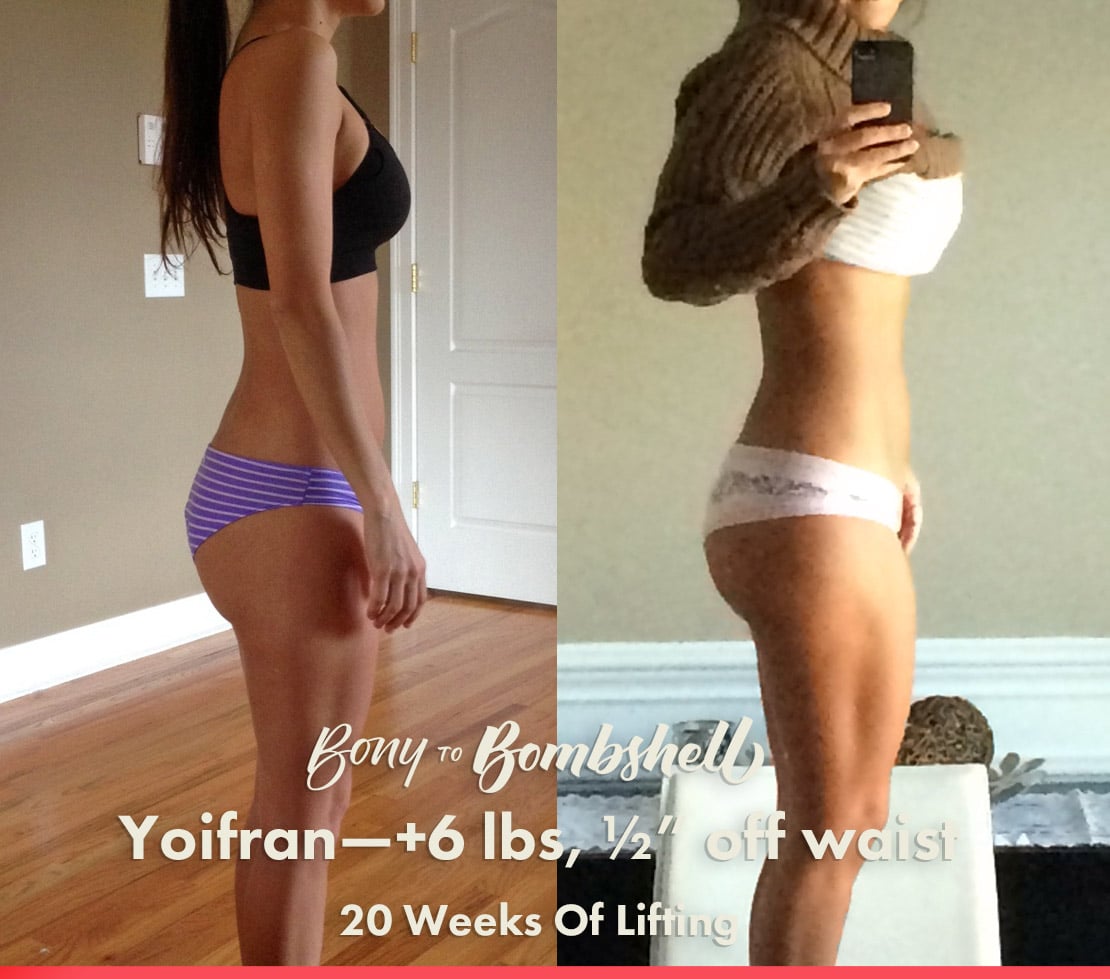 What Next?
If you liked this article, you'd love our muscle-building newsletter. We'll keep you up to date on all the latest muscle-building information for women. Or, if you want us to walk you through the process of building muscle, including teaching you the lifts, giving you a full workout program, a complete diet guide, a recipe book, and online coaching, check out our Bony to Bombshell Program.