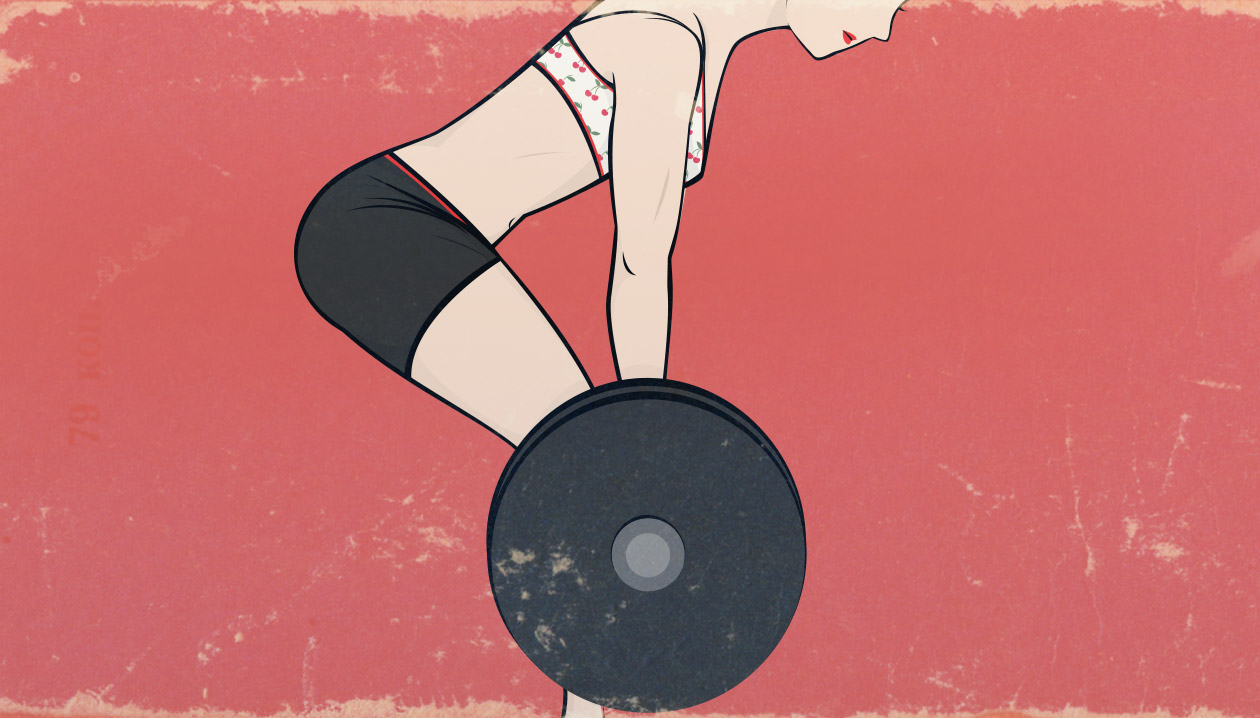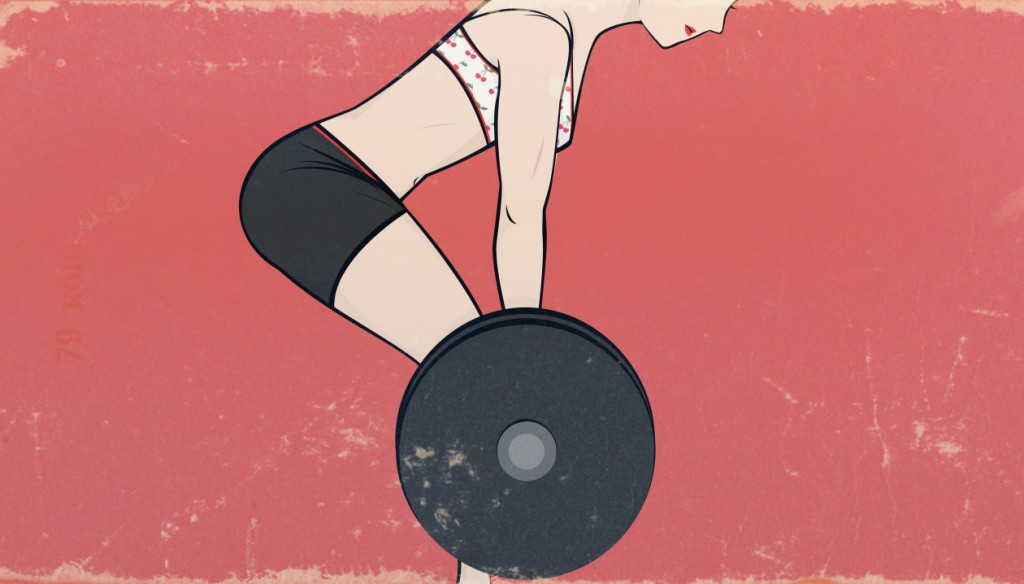 What Every Naturally Thin Woman Needs to Know About Exercise
If you're naturally thin, keep in mind you're immediately at odds with the mainstream. Only 3% of people are trying to gain weight, and the majority of that 3% are probably men. You're such a minority that basically everything you read about fitness will be wrong. Not necessarily wrong for your friends, but certainly wrong for you.
Most of fitness information or advice is either weight loss info in disguise, or exercise designed to improve the health of overweight people.
You might try the new trendy workout routine, try harder than everyone else, not get the results you want, and think that your genetics suck. Your genetics don't suck, you're just doing a fitness-ey program designed for people who want to lose weight and hoping that it will help you gain weight. Of course it won't help you gain weight, but how on earth were you supposed to know that?
Someone who's overweight probably should be on a treadmill, doing Insanity, or yoga. Overweight people have a really hard time with heart disease and diabetes and whatnot. Becoming more active and working to improve their fitness levels while burning some calories is exactly what they need.
As a result, a lot of thin women will turn to yoga, Zumba, running, Spin, etc. These seem like types of exercise that are designed to make you fit and toned. That's not true.
These are types of exercise designed to make you fitter and smaller.
So how do you accomplish your goals in a way that suits your body type? That's what this article is about.
First of all, let's define fitness. Fitness can mean a number of things, but in the mainstream media it tends to mean cardiovascular fitness. This is what most mainstream workouts are designed to improve—even CrossFit. This doesn't improve your appearance, it improves heart and blood vessel function. This is a very good thing, but many people who are trying to get fit want more than that.
Surprisingly, the exercise designed to make you look fit is bodybuilding. Want to build up a fearsome pair of glutes? Bodybuilding. Strong toned arms? Bodybuilding. Long and lean muscles? Still bodybuilding.
Even if you want to lose fat, bodybuilding allows you to do it more quickly and effectively than any other type of exercise. For example, a recent study found that people who combined light exercise with a calorie deficit lost 13 pounds—they lost 7 pounds of fat and 6 pounds of muscle. The group who combined bodybuilding with a calorie deficit lost 18 pounds—they lost 22 pounds of fat while gaining 4 pounds of muscle (study).
Lifting will make you fit too, since it will improve your health (bone density, heart health, insulin sensitivity, etc) and make you better able to complete certain physical tasks (lifting things, throwing things, sprinting, avoiding injury, etc). Interestingly, the process of building muscle also improves the health of your nails and hair, and having an abundant amount of muscle mass means that even if you get sick your bones, nails and hair won't suffer.
An hour of bodybuilding will even give you the same cardiovascular benefit as 30 minutes of cardio.
Not bad, right?
Going a little further down the bodybuilding rabbit hole, lifting heavy things is a type of exercise that will cause your body to adapt by building muscle. That muscle will make you stronger and better looking. Better looking because you'll look like a superhero, and also because you'll be standing taller and more confidently due to improved posture.
Quickly going back to the non-lifty sort of exercise, doing not-so-heavy stuff to get your heart rate up, like running, like bodyweight workouts, Spin, Body Pump, etc—these will cause your body to adapt by improving blood flow and oxygen delivery throughout your body. This is a type of exercise called aerobics, and it really has nothing at all to do with muscle growth. It's healthy and it will burn calories—great for weight loss and general health—but it won't build muscle mass.
Here is a woman who is probably naturally slim, has cardio-d hard for years, and has fully adapted for her cardio oriented goals: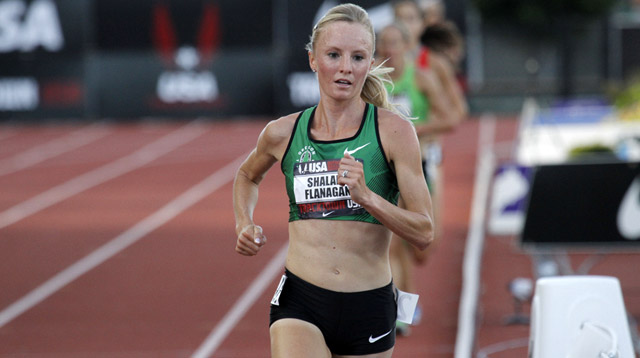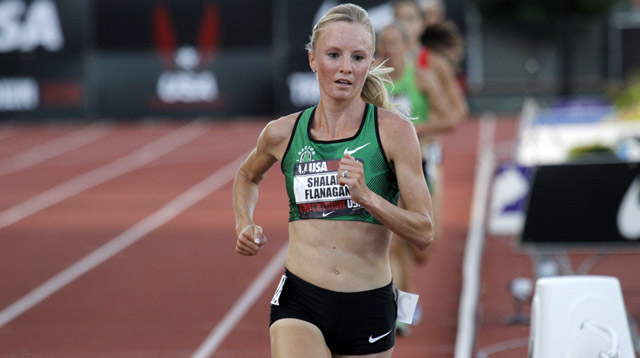 Here's a woman who has lifted hard for years, and has fully adapted for her strength and power goals: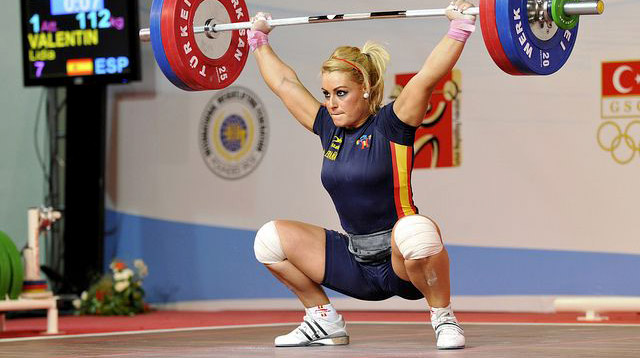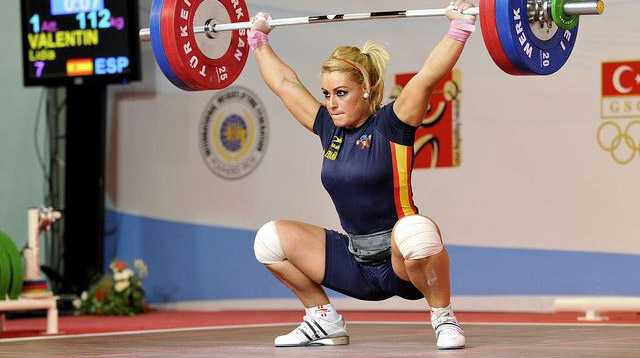 Both bodies are fantastic. They're both Olympians after all. However, if your goal is to build muscle, you can see that it's strength and power that you want to train for, not cardiovascular endurance.
I know these are just examples, but the research is also very clear. It doesn't matter how gruelling your workouts are, or how fearsomely your muscles burn with a hellish fire. If the stimulus isn't heavy enough, it won't cause you to adapt by becoming bigger and stronger (study, study, study, study, study). Even if you ate a calorie surplus in order to gain weight, a large portion of that weight gain would be fat.
Remember—sweat is your fat crying, not your body building muscle.
I realize that this advice doesn't apply to everyone. For a lot of women out there, they already have all the muscle they want. They don't need to build more, they just need to chisel off the fat that's covering it. Sort of like taking a giant rock and chiseling out the bombshell hidden away inside. There are a lot of reasons for their already ample musculature, but more often than not, a lifetime of overeating has caused a lot of muscle growth along with a lot of fat growth. Even if you don't lift weights, gaining 10 pounds will probably result in a good 3-4 pounds of muscle along with 6-7 pounds of fat.
Not very lean gains, but gains nonetheless.
Moreover, carrying around extra bodyweight makes you more muscular too. Going up a flight of stairs when you weigh 200 pounds requires quite a lot of lower body strength.
So to a certain extent being overweight also means being strong. For them, getting toned actually does mean getting smaller. They tone by removing the fat on top of their muscles.
For you though, getting toned means developing more lean muscle mass.
General fitness stuff, while good for your heart, will not help you gain lean mass. It causes a totally separate type of adaptation—improved blood flow.
Another thing to consider when you look at fitness celebrities is that once you have muscle mass, it's very very easy to maintain it. If you develop a killer physique by lifting, or genetics, or however—you can often maintain that physique with incredible ease forever afterwards. So if someone already has an amazingly muscular body, they can do all kind of nonsense on YouTube and maintain it just fine. However it won't help someone who doesn't already have it.
For a naturally skinny gal, no deliberate muscle mass development  = no muscle tone.
If you want to build muscle, you need to do a type of exercise that actually builds muscle.
What Type of Exercise Builds Muscle?
Heavy resistance training—anaerobic training—is the type of exercise designed to build muscle. It also comes along with a host of other benefits—strength, fitness, health, bone density, increased life span, and even improved cardiovascular health—but most weightlifting programs are designed with muscle and strength in mind. These other benefits are often just a welcome bonus.
Most of these "bodybuilding" programs are designed for men. And perhaps you don't want to be bulky or hulky like those programs promise. However, bodybuilding is still your best bet for accomplishing your goals. You just need to build the body that you want, not the body that someone else wants.
It seems like a lot of heavy weightlifting programs out there are designed to make you bulkier, not curvier. That's true. But curviness is found on the journey to bulkiness. If you gain 10 pounds of muscle you may wind up looking curvy and slender. If you gain 20 pounds, maybe you'll look curvy and strong. If you gain 50 pounds, yeah, maybe you'll look like a bulky bodybuilder. However you aren't going to wake up one morning after having gained 20 pounds only to realize that now you're 50 pounds heavier. You could spend the next year or two working towards gaining 20 pounds, then when you reach your size goals you stop overeating, and you stop gaining weight.
There's still an issue with most bodybuilding programs though. Because most of them are designed for dudes, there's a lot of arm work, a lot of chest work, a lot of ab work, a lot of back work. There's some leg work too, but most guys are going for a V-shaped physique, so most approaches to weightlifting are designed to primarily bulk up the upper body. There's nothing wrong with you going after that, but you may prefer a different sort of physique for yourself.
For an example, let's say you're naturally thinly built and you want Jen Selter curves. Even if you want to look slender like Selter instead of curvaceous like a Kardashian, lifting is still the best way to do this! It just means lifting in a way that actually suits your goals.
Maybe you do fewer bicep isolation lifts—or none at all—so that your arms don't get much larger. If you use your arms for compound lifts they'll build up the little bit of mass that you want to give you slender balanced functional muscle tone, but they won't grow larger than your boyfriend's.
Maybe that means avoiding tons of ab isolation work (like crunches) so that your waist doesn't get big and bulky.
Maybe that means doing a lot of glute isolation lifts to build up an enormous tush.
Here's what a few months of "bulking" can do when the training program is designed with those goals in mind. Ioulia did a full body strength training program to drastically improve her full body strength… while also doing some extra bodybuilding lifts for her target areas.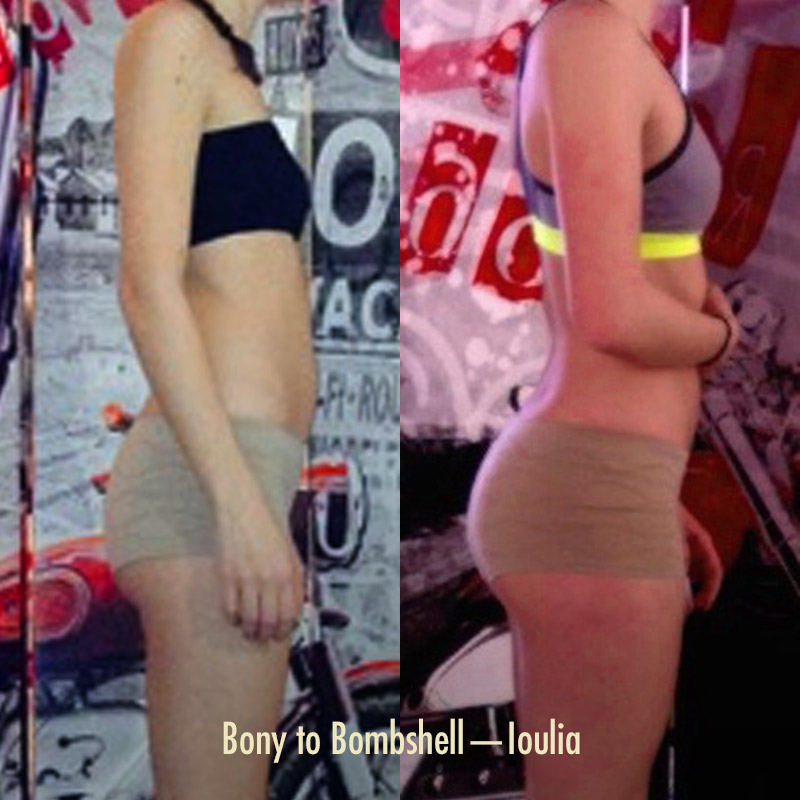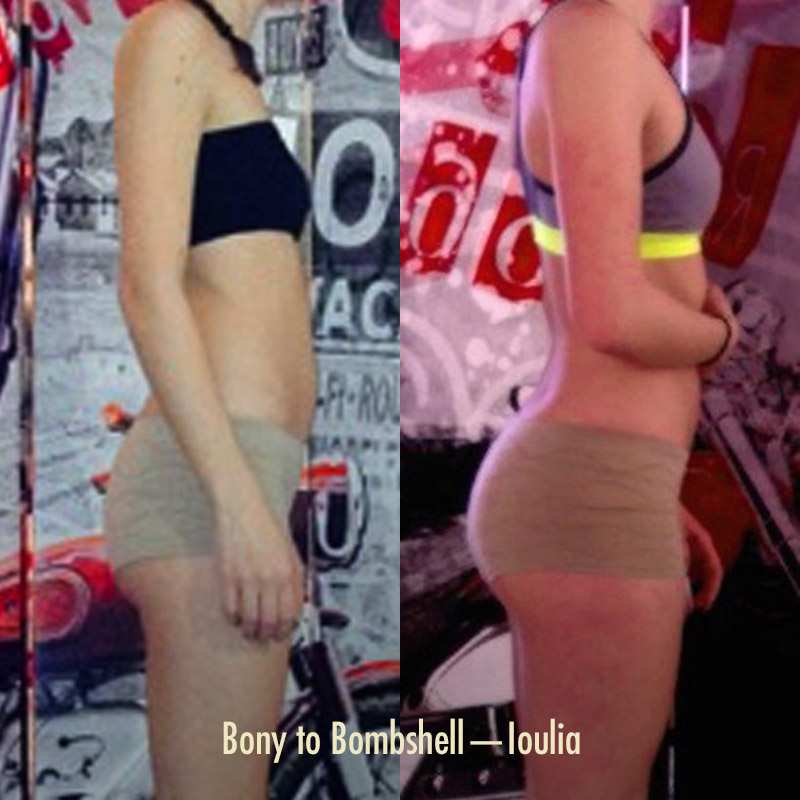 Obviously there are many different types of goals. This is just an example. Keep in mind that you can use lifting to accomplish a myriad of different goals. If you want broader shoulders, say, you can accomplish this through bodybuilding as well, you'd just put more emphasis on training your shoulders, upper back and chest.
So, which type of weightlifting is best?
There are a few subdivisions of weightlifting, so even once you've settled on weightlifting there are a few choices to make. Fortunately, some styles of lifting rise above the rest when it comes to building muscle and gaining weight.
Let's go over a few different styles:
Conditioning (e.g. Insanity / P90X / Callisthenics). This isn't weightlifting per se, but it is resistance training. Very light resistance training usually performed in circuits to make it brutal on your aerobic system. It's designed to get you in good physical "condition" so that you can do well in the military, with martial arts, Tough Mudder or whatnot. It's easy to do it at home, it's fairly safe, it could be fun in a want-to-kill-yourself kind of way (I'll admit that I don't enjoy it)… and it's aerobic, not anaerobic, so it won't build muscle very well. In fact, beyond a very beginner stage it won't build muscle at all. 
Power Training (e.g. Olympic Lifting). This is a power sport where you athletically throw a very heavy barbell around.  Not really relevant for your goals, since it's not ideal for building muscle mass, and it's a little more dangerous than some of the other options. (It's still safer than jogging and soccer though!)
High Intensity Power Training (e.g. Crossfit). This is the newest type of weightlifting, and it's a hybrid between power training and conditioning. As you can imagine, combining aerobic resistance training with a type of weightlifting that isn't very good for building muscle results in… a style of training that isn't very good for building muscle. Most of the most muscular CrossFit people came into the sport already muscular. It also has a reputation for making women look like men. That's ridiculous. However, it's definitely not a program designed with women's physique goals in mind. It's not even a program designed with men's physique goals in mind! Moreover, combining fatigue-oriented conditioning with a risky-ish athletic style of weightlifting results in a markedly higher injury rate. If you're doing an Olympic lift like a "clean", fine, but if you're in any way new to lifting weights, maaaybe don't do twenty of them in a row until the postural muscles in your back collapse and you risk injuring your spine.
Powerlifting (strength training). This is where you learn to lift as much weight as you possibly can for 1 repetition. Like Olympic lifting, Powerlifting is a sport. Once you master the technique of lifting heavy, the way to excel at the sport is to pack on as much muscle mass onto your frame as possible, since muscle mass is pretty much perfectly correlated with muscle strength. This type of lifting is still safer and jogging and soccer, but as far as lifting weights goes, it's hard on your body and injuries aren't that uncommon.
Bodybuilding (training for aesthetics). This is where you lift in a way that optimizes muscle size, leanness, proportions and aesthetics. You can use it to become as big or as toned as you want. A bikini model uses bodybuilding to build her physique just like Arnold Schwarzenegger did. Different goals, different genetics, same methods.
With bodybuilding the weights are lighter than with powerlifting—often about twelve repetitions before you hit muscular failure—and it's about as safe as exercise could possibly be. It's way waaay safer than jogging and soccer. The most common injury is dropping a weight on your foot, and that is fairly uncommon.
This is hands down without a doubt the best way to exercise if you want to look better. It's also very healthy! Combining a very safe style of lifting with one designed to make you look strong and healthy is, perhaps not surprisingly, a very good way to become strong and healthy. (And as mentioned above, recent research has found that a typical hour-long bodybuilding workout also counts for about half an hour of cardio.)
So which style of lifting is best? All of these types of training have advantages and disadvantages. If you had to pick just one, I would recommend a bodybuilding approach (designed with your own aesthetic goals in mind).
But you don't have to pick just one!
You could start your workout with some strength training to develop strength and athleticism. You could keep that part of the workout short to avoid the higher injury rates and the wear and tear on your body. Then transition to bodybuilding to build some curves where you want them. You could spend a little longer there, since bodybuilding is easy to recover from, very healthy, very safe, and allows for a lot of growth. After that you could do some higher intensity conditioning to challenge your aerobic system. You could use simple lifts with a low rate of injury to keep it safe.
That gives you a safe and effective strength, aesthetics and cardio program that will have you performing well, feeling great and looking amazing. 
(This may sound confusing, and it can be. That's why we designed the Bony to Bombshell Program—so you'd have all that work done for you. We've got some advice coming up though.)
Yeah, the gym is intimidating for skinny people
Pretty much every naturally skinny person I've ever met has found the gym pretty terrifying. I definitely found it terrifying. So… I gained my first 20 pounds at home. Only then did I have the confidence to step foot into a gym.
It's not that we're cowards or anything, it's just that the gym is kind of a skinny person's worst nightmare. If on the soccer field you're judged by how good of a soccer player you are, then in the gym you might think you're being judged by how muscular you are. If you aren't confident about the size of your muscles, this makes the gym a very intimidating place.
If you do have the courage to get yourself to the gym, you'll soon learn that the gym isn't actually all that intimidating. Most people there are kind and welcoming, and the ones who aren't are often too busy admiring their biceps in the mirror to even notice you.
But getting to the gym is easier said than done. So here are some options with a little less "tough love" in them:
1) Build a simple home gym. If you don't like the gym environment this is a really easy way to build muscle at home. All you need are some heavy adjustable dumbbells that go up to 80 or 100 pounds, and an adjustable lifting bench. (That's all you need to do our Bony to Bombshell Program.)


2) Do lifts that match your experience level. If you're new to lifting and you start attempting back squats and barbell deadlifts… things are going to get real awkward real quick. These are very advanced lifts that take years to master. You run the very real risk of ten guys without necks all fighting for a chance to coach you. Their attempts will be in vain too, because even the best coaches in the world wouldn't be able to teach someone these lifts in just an hour or two.
This may not be your cup of tea.
To get around this, do lifts that match your experience level. I recommend goblet squats and dumbbell sumo deadlifts. (We'll teach you these lifts in our next post.) These variants are easier to learn, you won't look that awkward doing them, they build just as much muscle, they're safer, you won't need to fight for a turn at the squat rack, and most people at the gym won't have anything to contribute because they won't even know what it is you're doing.
3) Go to the gym during off hours. Most guys will lift weights either 3 or 6 times per week, and most will train right after work. This fits their schedule, and it's also when their testosterone is at it's daily peak. This means that at 6pm on Monday, Wednesday and Friday nearly every guy will be at the gym competing for the bench press bench and the squat rack. If you go at any other time, say 8 p.m. on a Tuesday, you can often avoid the craziness.
4) Practice the lifts at home. If you're worried about showing up at the gym and looking like a goof in public as you try lifting for the first time… just practice the lifts at home beforehand! You can grab a book or jug of water and practice your goblet squats and dumbbell sumo deadlifts. They won't be heavy enough to stimulate muscle growth, but at least that way you can show up at the gym already in the know.
Wrap-Up
This may or may not sound like good news. The fact that bodybuilding and strength training programs are the best programs for building muscle is an awkward truth for most skinny people—it definitely was for me.
It would be much more pleasant if we could build up muscle mass as a by-product of doing something that we're already good at. This is why I spent so long trying to build muscle by doing things like swimming, bodyweight workouts and martial arts. I felt like I wouldn't be judged as harshly based on my lack of muscle mass if I exercised in a way that wasn't solely focused on muscle mass.
Not surprisingly, that kept me very skinny for a very long time.
The good news is that the better your training program, the more your muscle cells will be doing everything they can to grow as quickly as possible. They'll be incredibly insulin sensitive, meaning that more of the food you eat will be invested in building muscle, and less stored as fat.
The newer you are to lifting, the more exciting this news is. You may think that your genetics are keeping you skinny, but by optimizing your training for muscle growth you may actually find that you can grow at an incredibly rapid pace.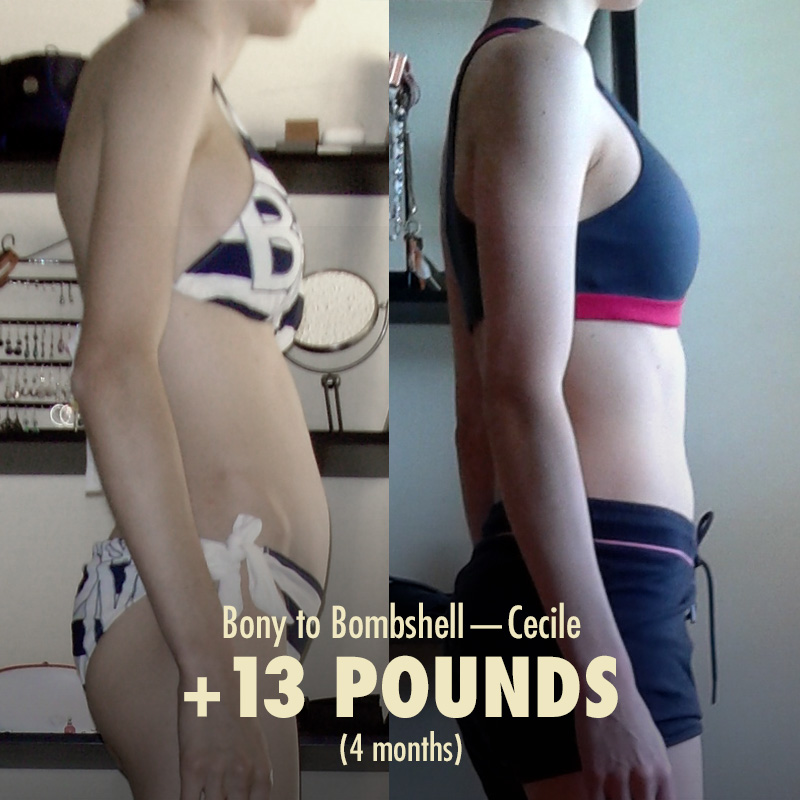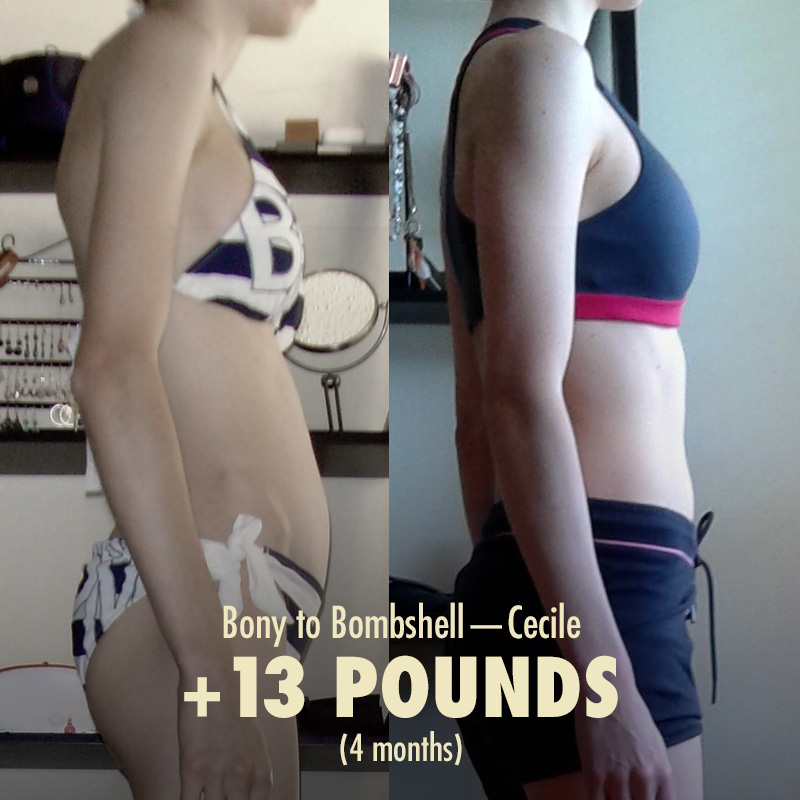 A few months from now you might be twice as strong, a dozen pounds heavier, feeling more energetic than ever, and pretty excited about what you're capable of accomplishing with lifting and nutrition.
* * *
If you ever want a full program that covers absolutely everything you need to know about building muscle, videos of every exercise you'll need to know, and includes a ton of recipes, a vibrant community full of great women with similar goals, and coaching/customization from us throughout the process, check out our Bony to Bombshell Program.